Winter is finally here!
In honor of our favorite time of year we came up with our ultimate bucket list of 16 things to do in Colorado this winter.
Whether you're looking for some incredible sights to see, extreme winter fun, or a little winter break; our list has you covered. With so much to see and do, is it too early to wish for 6 more weeks of winter?
SIGHTS TO SEE
Winter is easily one of the best times of year in Colorado with some truly amazing sights to see.
DURANGO & SILVERTON RAILROAD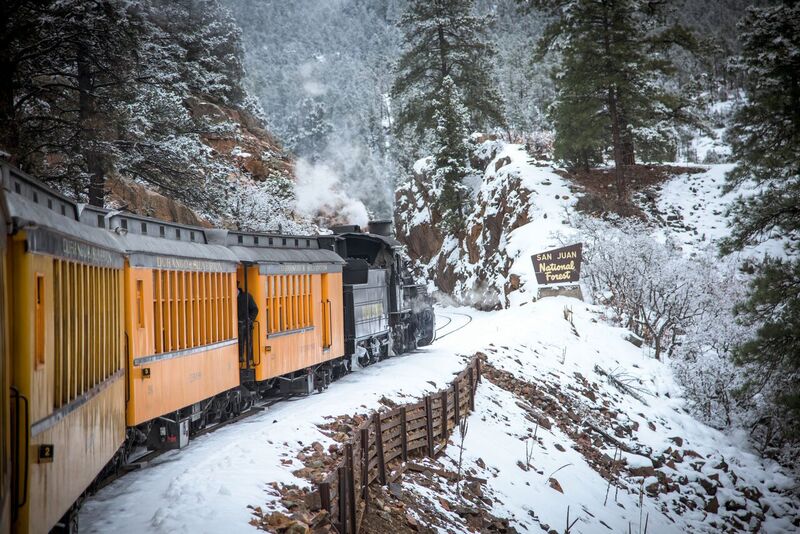 Kicking off our list is the iconic Durango & Silverton Railroad.
This historic steam train runs between Durango and Silverton, covering over 26 miles (a total of 5-hours round trip) each way that promises winter fun for everyone. You'll take in some incredible views of the San Juan National Forest and scenic Animas River all while relaxing in one of their heated and socially distant coaches. Be sure to check out their site for more information on departure dates, tickets, packages and more.
DILLON ICE CASTLES
While our next pick may already be on your list, winter wouldn't be winter without a visit to the Dillon Ice Castles. This award-winning frozen attraction features hundreds of thousands of icicles hand-placed by professional ice artists that is truly a sight to see. The castles also feature an impressive lineup of LED-lit sculptures, frozen thrones, ice-carved tunnels, slides, fountains and more.
With many dates already sold out you'll want to run not walk to secure your visit.
GRAND ADVENTURE BALLOON TOURS
What's better than a visit to The Rockies, a hot air balloon ride through The Rockies, of course. Grand Adventure Balloon Tours is the perfect way to do just that, with one of their scenic hot air balloon rides through the Winter Park/Fraser Valley. With a chance to experience an incredible sunrise over the Continental Divide, we're willing to overlook our fear of highs to take in some incredible sights.
EXTREME WINTER FUN
For those looking to feed their more adventurous side this winter, these next picks are just for you!
FRISCO ADVENTURE PARK
You had us at adventure park.
We're of course talking about the Frisco Adventure Park that's sure to promise extreme winter fun for everyone! With activities like tubing, snowshoeing, sleigh rides, and more; this is one you won't want to miss. Be sure to check out their site for additional information on tubing reservations, rentals, Nordic Center and more.
OUTLAW MOUNTAIN COASTER
We've got the need, the need for speed.
We're of course talking about the Outlaw Mountain Coaster located in Steamboat Springs. This mountain coaster is open daily stretches over a mile on an elevated track at speeds up to 27 mph with plenty of curves, turns (yes, some hairpin turns), and steep descents. Additional information on rates, hours of operations, driver requirements and more can be found here.
FAT BIKING
Have you tried Fat Biking yet?
For those not quite ready to give up mountain biking in the winter months, Fat Biking is perfect for you! With plenty groomed and ungroomed trails to explore, Breckenridge make for the perfect setting for beginners and experienced riders alike.
Psst… did we mention Breckenridge also has some amazing fat biking tour options?
DOG SLEDDING
Talk about an ultimate winter bucket list item, we're of course talking about dog sledding!
Another great option to check out while you're in Breckenridge is Good Times Adventures guided dog sledding tours. Their unique and interactive tour spans 6 miles along spectacular trails along the Swan River Valley. As part of the tour, you'll enjoy switching off between running the dogs, riding in the dogsled and riding on a small passenger sleigh with the guide. Be For additional information on pricing, availability, reservations and more be sure to check out their site for all your dog sledding needs.
SNOWMOBILE THE CONTINENTAL DIVIDE
We don't know about you BUT snowmobiling The Continental Divide sounds like a pretty epic winter bucket list item. For those looking to make the most out of their next Breckenridge trip, snowmobiling is an absolute must! Be sure to check out BookBreck for a great list of snowmobile options in the area.
SLEDDING
No winter bucket list would be complete without a little sledding. With so many great options, Winter Park is definitely the place to be for those looking to get their sled on. Whether you're looking for mini hills for the kiddies, racing lanes for a little healthy competition, and more there's plenty of fun for the everyone at Winter Park this year.
THE RINK AT EVERGREEN LAKE
Ice skating has never looked better than at The Rink at Evergreen Lake. This outdoor skating rink located, you guessed it, on Evergreen Lake is nature's picture-perfect ice skating and hockey backdrop. As with many things, be sure to check out the Evergreen Park and Recreation District's site for additional information on COVID-19 requirements, tickets, hours and more.
WINTER BREAK
We don't know about you, but all this winter fun has us ready for a little winter break (see what we did there). For those looking for a little après winter fun-fun these next picks are for you.
HOT SPRINGS
No winter bucket list would be complete without a visit to one of Colorado's many hot springs. With so many to choose from, we could dedicate a post to all the various hot springs around CO.
Psst… stay tuned for more on some of our favorite hot springs.
APRÈS IN THE CLOUDS
Running every Thursday-Saturday, Après in the Clouds is an absolute must for those looking for a little winter break! From curling, cabanas, stargazing, tailgating, dining and more; the rooftop of the Halcyon is definitely one that needs to be on your list. Don't worry, there's plenty of hot toddies, blankets and cabanas to help you stay warm as you après the day/night away,
Psst… be sure to check out our spotlight on the Halcyon.
DEVIL'S THUMB RANCH RESORT & SPA
For those looking for some much-needed R & R this winter, Devil's Thumb Ranch Resort & Spa is the place to be. Located minutes away from Winter Park and over 6,500 acres to explore, there's plenty to do or nothing at all, making it the perfect winter staycation.
Psst… did we mention they also have a sledding hill?
ALPENROSE VAIL
Fondue in a gondola, where do we sign up?
Seriously, Alpenrose Vail is serving up an incredible fondue gondola experience that you won't want to miss. The gondola experience includes a stellar 3-course menu, drinks, and dessert, making it a truly unique and memorable dining experience.
CABIN CREEK BREWING
Last but certainly not least is Cabin Creek Brewing, a lakeside brewpub located in Georgetown. Whether you're on your way to the mountains, making your way back home, or simply looking for a change of scenery while you enjoy some delicious food and drinks; Cabin Creek in the way to go.
Psst… did we mention they have ice races in the winter?
IT'S A WINTERFUL LIFE
We've said it before and we'll say it again, winter is easily one of the best times in Colorado and we're so lucky to call such an amazing place home. While we know some of your winter festivities may look a little different this year, we hope you take some time to truly enjoy the magic that is winter in Colorado. Happy Winter!
As always, we love seeing and hearing from you, be sure to follow us on Instagram @TheDenverEar and tag #TheDenverEar for a chance to be featured.