"I dream of painting and then I paint my dream" – Vincent van Gogh
Immersive Van Gogh is Denver's newest and most ambitious art exhibit celebrating the extraordinary artist's famous body of work, and is one you won't want to miss.
We were fortunate enough to enjoy an exclusive first look at this incredible immersive art experience and can't wait to tell you all about it!
THE CONCEPT
Immersive Van Gogh Denver is the brainchild of world-renown visual artist Massimiliano Siccardi, who gained international recognition through his truly extraordinary video scenography instillations. Massimiliano, alongside the exhibit's incredible Creative Team and producers, have helped bring some of Vincent van Gogh's most prolific pieces to life in an incredibly unique way.
With over 500,000 cubic feet and 9 million pixels of breathtaking animated projections highlighting van Gogh's legacy, Immersive Van Gogh Denver is something you need to see to believe. Denver is fortunate enough to call the 12th location of this multi-city-exhibit home, and we couldn't be prouder.
Making its debut in the heart of Denver on September 30th, be sure to visit their site for tickets, times, and FAQs.
THE EXPERIENCE
At first glance, we were immediately taken back by a larger-than-life portrait of the man of the hour, Vincent van Gogh. We were promptly greeted by the exhibit staff and taken to one of socially distanced viewing areas. Following the highly anticipated ribbon cutting ceremony, the lights dimmed, and it was showtime.
As we walked through some of van Gogh's most famous pieces, the ambiance and perfectly paired soundtrack felt as though we had been transported into the visionary world the artist so eloquently depicted on canvas. What we loved most about the exhibit was that we were free to walk-through, explore, and enjoy the experience in our own way. With so much to see and take in, we have a feeling we'll be back!
Psst… did we mention we picked up some incredible merch at the gift shop?
GOOD TO GOGH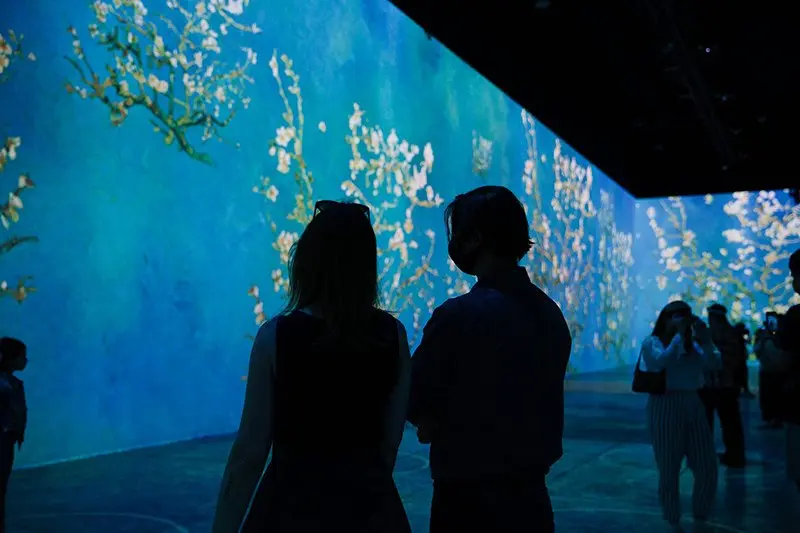 As we continue to navigate this ever-changing environment, Immersive Van Gogh Denver has put together a new and safe way to experience art and celebrate the way it makes us feel. Be sure to visit their site for additional information on the exhibit's safety precautions, requirements, and more.
As always, we love seeing and hearing from you, be sure to follow us on Instagram @TheDenverEar and tag #TheDenverEar for a chance to be featured.