We need some vitamin sea!
The Little Mermaid Cocktail Experience has set sail in Denver and is making waves downtown. Whether you're looking for the perfect girl's night, date night or are just a really big fan of mermaids – this is one you won't want to miss.
We were fortunate enough to pay our favorite mermaid friend a visit and can't wait to tell you all about it!
THE CONCEPT
The Little Mermaid Cocktail Experience is presented by Fever – the masterminds behind some of the most unique and immersive experiences that bring your favorites to life.
This 90-minute cocktail experience transports visitors to an incredible underwater kingdom (beneath the Denver Pavilions) and is something you need to sea to believe (see what we did there). During your visit you'll meet some delightful characters, sip on three fairytale-inspired cocktails and get lost in a timeless tale of love and loss.
Making its final run through the end of the month, be sure to visit their site for tickets, showtimes, FAQs and more.
Psst… this is a 21+ event, sorry kiddos.
THE EXPERIENCE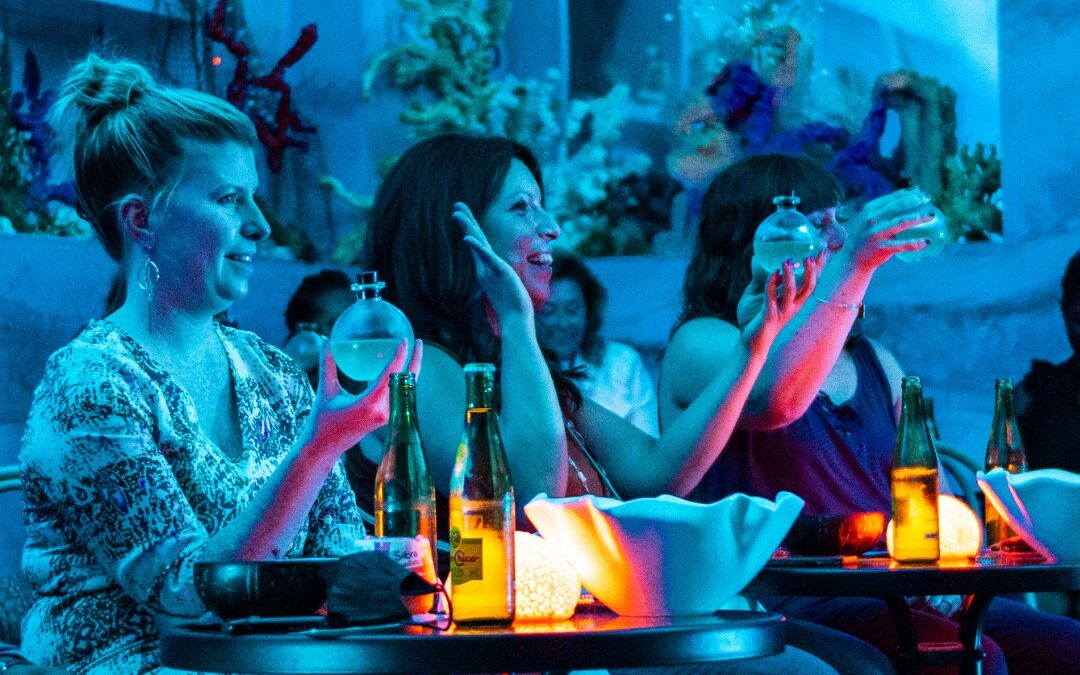 At first glance, we were immediately taken back by the incredible décor and attention to detail that made the experience all the more real. We were promptly greeted by the onsite bellman and taken on an entertaining "elevator ride" which transported us to an underwater world. We were then directed to our seats, the lights dimmed, and it was showtime.
As we enjoyed an incredible performance of this beloved tale, the ambiance and perfectly paired cocktails helped make the night one we won't soon forget. What we loved most about the experience was the interactive element the talented performers and crew brought to the evening – between the audience participation, meet-and-greet after the show, and endless photo ops; we have a feeling we'll be back!
Psst… did we mention the cast is made up of all local performers?
MER-MAZING
If you need us, we'll be doing mermaid things!
We'd like to say a special thank you to the phenomenal cast and crew of The Little Mermaid Cocktail Experience Denver that made our visit extra special. We cannot recommend it enough and hope you enjoy your visit as much as we did.
As always, we love seeing and hearing from you, be sure to follow us on Instagram @TheDenverEar and tag #TheDenverEar for a chance to be featured.