Are you looking for an exciting way to spruce up your next backyard get together?
Get to know Let's Hibachi – Denver's newest private chef and hibachi experience. We were fortunate enough to enjoy an incredible private hibachi party and can't wait to tell you all about it!
THE CONCEPT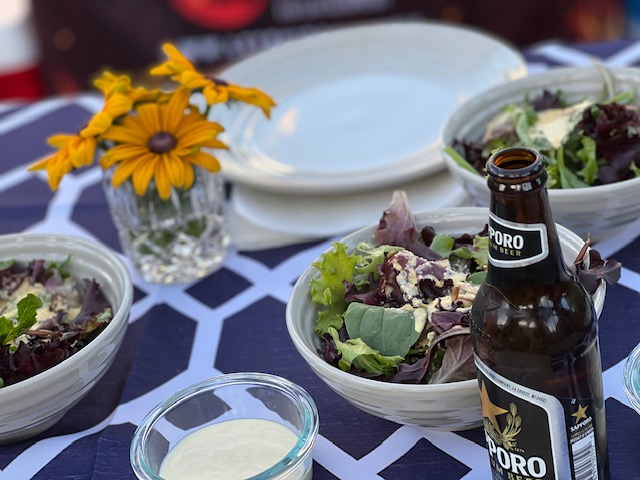 Let's Hibachi is an incredible pairing of the traditional hibachi experience you know and love, mixed with the excitement of a private chef, and the convenience of never having to leave your backyard. 
This 90-minute dining experience is sure to bring the fun and is great for birthdays, holidays, special celebrations, and everything in-between. Perfect for any sized guestlist, you just name the time and place, and Let's Hibachi will do the rest. Each dining experience includes fried rice, fresh vegetables, plenty of fresh salad and each guest's choice of two proteins. Don't worry sauce lovers – you'll also get as much of their signature sauce(s) as your heart desires. Be sure to visit their site to reserve your timeslot, menu options, table setup tips, FAQs and more.
Psst… did we mention the sake??
THE EXPERIENCE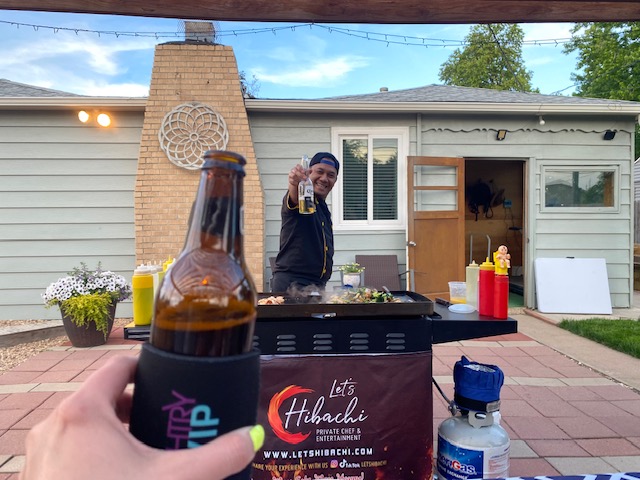 As we previously mentioned – we were fortunate enough to experience our very own private hibachi party and can't wait to tell you all about it.
The Let's Hibachi team made booking our reservation and menu selections a breeze prior to our dinner experience. The hibachi chefs arrived promptly and were incredible to work with while we set up our table space and enjoyed a few pre-dinner drinks. Once we were all settled, the grill was fired up and ready to go, and the real fun began. 
As we enjoyed our incredible first course of a phenomenal summer salad (with homemade dressing), the chefs took their time to tell us a little more about the concept and how excited they were to bring such a unique and fun dining experience to Denver. From there we enjoyed (what seemed like) all-you-can-drink sake that really helped us work up an appetite. Our main course included plenty of fried rice, perfectly cooked steak, chicken, shrimp, scallops, and veggies; that we're still dreaming about. What we loved most about the experience was the interactive element the chefs' brought to the party and their desire to make it a truly memorable experience; we have a feeling we'll see them again for another hibachi party!
Psst… we'd we recommend having your guests arrive at least 10-15 minutes beforehand to get settled and get the most out of your experience.
LET'S HIBACHI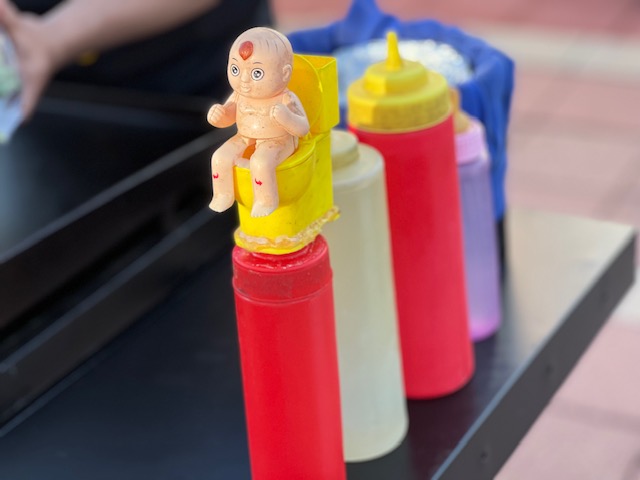 With summer in full swing – it's the perfect time to enjoy an elevated dining experience with Let's Hibachi. Whether you're celebrating something special with family and/or friends or just looking for an excuse to get everyone together, it's a great way to spend a summer night.
As always, we love seeing and hearing from you, be sure to follow us on Instagram @TheDenverEar and tag #TheDenverEar for a chance to be featured.