From galleries to museums to artsy districts and street corners, Denver is a living art exhibit just waiting to be explored. But because the Mile High City is so packed with culture, it can be hard to know exactly where to start.
Luckily, we've got you covered! We crafted an ultimate guide to the Denver arts scene. Here, you'll find descriptions of all of our thriving art communities, a list of the best art galleries and museums, popular art events, and so much more. Enjoy!
Jump Ahead
Art Districts | Outdoor Art | Museums | Art Events | Art Galleries | Performing Art Venues | Classes + Education
Art Districts
40 West Arts
Photo courtesy of 40 West Arts
When you drive through Lakewood's suburban landscape, you wouldn't expect there to be a thriving arts district right under your nose—but you'd be wrong! 40 West Arts is one of the most exciting (and accessible) arts districts in the city, featuring more than two dozen public art installations, several galleries, performance venues and the Rocky Mountain College of Art + Design.
Art District on Santa Fe
Located on the south side of Denver, the Art District on Santa Fe is home to a plethora of artist studios, restaurants and art galleries. In fact, it has more art galleries than any other area in Colorado—so if you love art, this is where to go!
Golden Triangle Creative District
Home to eight museums, 15 galleries, several fine art studios and specialty stores, the Golden Triangle Creative District is a fantastic place for art lovers to hang out. Their art walk is held on the final Friday of each month, from June through September, and gives you free access to many creative spaces in the district.
Tennyson Street Cultural District
Photo courtesy of Tennyson Street
Denver's Berkeley neighborhood, located west of downtown, offers a thriving creative scene known as the Tennyson Street Cultural District. This area is home to a growing number of art galleries along with live music venues and some pretty amazing restaurants.
River North Art District (RiNo)
RiNo is one of our favorite places in Denver—for great reason! No matter where you look, this neighborhood is packed full of art, including an array of creative businesses, art galleries, studio spaces, colorful street art and more. Want to explore this area further? We have an entire guide!
Westwood Creative District
Nestled in southwest Denver, this colorful district shines with interesting and local art. The neighborhood's Mexican-American roots show in the culturally inspired murals, the electrical boxes and even the trash cans. Currently, local leaders are working to transform Morrison Road (the street that cuts through the district) into a pedestrian-friendly market that we can't wait to explore!
Arts on Belmar
Just 12 minutes from downtown Denver, Arts on Belmar boasts a diverse collection of studios and galleries. Artisans working with photography, acrylics, digital, textiles and more can be found on the easternmost part of the area. And did we mention there's free parking?
South Pearl Street
Photo courtesy of South Pearl Street
Settled between the 1200 and 1800 blocks of South Pearl Streets, this artsy locale is home to one of the oldest art galleries in Denver: The Sand Dollar Gallery. The area also features several other art galleries, plenty of shops and fantastic places to get a bite to eat.
Outdoor Art
Local Street Art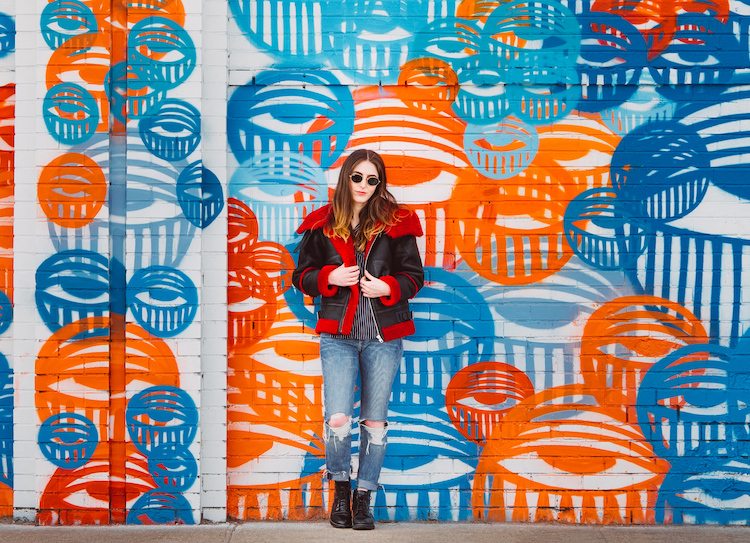 Denver is widely known as the street art capital of the world. From the impressive murals in RiNo to the eye-catching art in Dairy Block–there's no shortage of great street art here. And because there is just so much to explore, we can't go into all of it here. But if we had to name our favorites they would be "Pastel Road" on Colfax Avenue, the "Purple, Blue and Black History and Humanity Mural" on Larimer Street and "Boy and Girl Opposite Directions" in RiNo. For a more comprehensive list (and some pretty cool photos) check out Carrie Colbert's blog where she outlines a ton of amazing Denver street art sites and pins them on a handy map!
Located in the heart of the Denver Theater District, the Sculpture Park is a distinguished area that hosts several outdoor festivals throughout the year. But you probably know it for the 60-foot-high sculpture located at Speer and Champa. Titled "The Dancers," this sculpture portrays two massive figures engaged in a dance together created by artist, Johnathon Borofsky.
The Blue Bear
There's no sculpture more iconically "Denver" than the Blue Bear, located right outside the Colorado Convention Center. Created by artist Lawrence Argent, the bear (formally known as "I See What You Mean") has become a symbol of the Mile High City. You can find it playfully peaking into the center's lobby surrounded by a plethora of bright blue trees.
The Yearling
This fun sculpture depicting a tiny horse on top of a bright red chair is located outside the Denver Public Library. Standing 21 feet tall and 10 feet wide, this interesting piece was originally meant to sit outside an elementary school in Manhattan before being permanently installed in Denver in 1998.
The Articulated Wall
View this post on Instagram
This bright yellow sculpture stands at a striking 85 feet and is one of Denver's most recognizable landmarks. Slightly reminiscent of a french fry, this work of art was actually inspired by the one that was built in Mexico City during the 1968 Summer Olympics. Want to see it for yourself? The Articulated Wall is located within the Denver Design Center Complex.
Museums
The Denver Art Museum is one of the largest museums in the western United States. See breathtaking art, learn about cultures from around the world, see artists at work, and participate in interesting workshops. With more than 70,000 works of art along with constantly rotating exhibitions, you'll never run out of things to see!
Clyfford Still was among the first generation of Abstract Expressionists who developed a new, powerful approach to painting following World War II. Following his death, much of his work was sealed off from the public and scholars. Opened in 2011, the Clyfford Still Museum allows visitors to experience Clyfford Still's art and legacy.
Photo courtesy of the Museum of Contemporary Art Denver
The Museum of Contemporary Art Denver offers rotating exhibitions and public education programs that celebrate creativity, experimentation and cultural engagement through the works of regional, national and international artists.
Experience the diverse art and cultures of the Americas at Museo de las Américas, the premier Latin American art museum in the Rocky Mountain region. Here, you can see award-winning exhibitions or participate in a workshop on a topic that interests you!
Located just a few minutes away from the Denver Art Museum, the Kirkland Museum of Fine & Decorative Art is home over 30,000 stunning pieces you could find in a home. Incredible and unique tables, chairs, vases, paintings and more—from the Arts & Crafts period through Postmodern—are just some of the things you'll see here.
Art Events
This annual festival has been showcasing Colorado art for over 20 years! The event is always held in Stapleton's Conservatory Green Neighborhood and features a wide variety of fine arts and crafts from both local and a select group of national artists.
Photo courtesy of the Denver Chalk Art Festival
One of our favorite summer events, the annual Denver Chalk Art Festival features more than 200 professional, amateur and student artists taking to the streets armed with chalk and pastels. They'll spend two days transforming Larimer Square into a work of art—it's one you won't want to miss.
Kick off the summer with a special festival in Denver's Berkeley neighborhood! Enjoy perusing fine art booths, dancing to live music, indulging in delicious grub from specialty food vendors, and participating in fun activities like face painting!
Colorado's signature cultural event and a nationally top-ranked celebration of the arts, the Cherry Creek Arts Festival is the festival for art lovers in Denver. Some of the annual highlights include more than 200 of the nation's top visual artists, curated exhibits, performing and culinary arts and "Artivities" for the whole family.
Free and open to the public, this special annual event never ceases to amaze us with incredible performances, art and great food. You can join in the celebration of African American art and culture every July in Denver City Park West.
This charming event always features an outstanding lineup of over 150 artisans and craftsmen. Held in lovely Cheesman Park, the Cheesman Park Art Fest features live music beneath the trees, award-winning summer art, and plenty of food trucks to try.
Crush Walls | Check Website for Dates
Crush Walls celebrates art, urban beautification, creativity and culture in the RiNo (River North) Art District. During this event, the world's best artists transform the streets and alleys of RiNo with new murals, immersive experiences and lots of creativity!
Photo courtesy of Denver Arts Week
Presented by VISIT DENVER, this annual festival features more than 300 events at a wide variety of art galleries, museums, theaters and concert halls—many of which offer discounts throughout the week.
Art Galleries
There's no end to the wonder you can experience at Fascination Street Fine Art. Here, they house everything from traditional still life to pop art. Casual and approachable, this is a fantastic spot to visit for beginning art lovers.
fooLPRoof is the brainchild of local accomplished artist, Laura Phelps Rogers. The popular gallery splits its exhibitions between visiting artists and Rogers' own work. Here, you can find interesting sculptures, paintings, jewelry and more that are always stunning and definitely thought-provoking.
Photo courtesy of the Incredible Art Gallery
This "incredible" spot provides licensed artwork from Disney, LucasFilms, Marvel and DC Comics and is a one-stop-shop for fans of movies and comic books.
Housed in a small building, this gallery offers expertly curated exhibitions that push the boundaries of your art expectations—sometimes even bordering on risky and risque. You might know them as the first home to the iconic "Wish You Were Her/e" neon sign that now sits on top of the Ramble Hotel.
Both a contemporary art gallery and a speakeasy, Millers & Rossi is very easy to love. They showcase an array of sculptures, paintings, photographs and more. Plus, their cocktails are practically an artform on their own.
Robischon Gallery comes off as a super fancy and traditional spot from the outside but just happens to hold several edgy pieces inside. Head to this LoDo space and get some inspiration from these pieces—many of which are priced pretty high but are still amazing to look at.
Photo courtesy of the Cherry Creek Art Gallery
Featuring only Colorado artists, the Cherry Creek Art Gallery is a space where you can go and appreciate (and support!) local artists. Most of the styles are of Colorado scenery but you can also enjoy some contemporary pieces as well.
This nonprofit organization is completely focused on giving artists a space to network and grow among Denver's creative community. Stop by and support some smaller artists—you never know where they'll be in a few years!
This gallery offers two floors of gallery space, giving you plenty of room to enjoy local art. They have no exclusivity on who they display, so you can expect to see both emerging and established artists working with all different types of mediums.
One of the most popular contemporary galleries in Denver, this space gives artists—both local and national—a place to get creative. If you get a chance, we recommend stopping by during one of their exciting opening receptions to enjoy the art among other art lovers.
Performing Arts Venues
Photo courtesy of the Curtis Hotel
The Denver Center for the Performing Arts Complex features several of the best performing arts venues in the state—including the Buell Theatre, the Ellie Caulkins Opera House, the Garner Galleria Theatre, the Jones Theatre, the Randy Weeks Conservatory Theatre, the Ricketson Theatre, the Space Theatre and the State Theatre. These venues put on incredible plays, musical performances, classes and special events throughout the year. Click here to see what performances are planned for this season.
Located inside the Colorado Convention Center, the Bellco Theater is a 5,000-seat venue that is one of the most technologically advanced theaters of its kind. They hold hundreds of concerts, plays and other performances throughout the year. Click here to see what they have in store for 2020.
Nestled on Denver's famous 16th Street Mall, the art deco Paramount Theatre is a popular concert venue hosting intimate performances for larger acts. They host around 100 concerts a year, and you can get tickets to an upcoming show here.
The Curious Theatre is a nonprofit, award-winning company that works to engage the community of Denver on important contemporary issues through provocative performances. And they do it all inside a historic church in Cap Hill. Click here for a list of upcoming shows.
Photo courtesy of the Ogden Theatre
Once a movie theater, the Ogden Theatre is a live music venue on East Colfax. Listed on the National Register of Historic Places, it's a great spot to see your favorite artist perform. And, since they only have seating for about 1,600 people, every show is incredibly cozy and intimate.
Classes + Education
Founded in 1987 with a handful of artists and over a hundred students, the Art Students League of Denver is where you can go to learn pretty much anything related to art! Today, they teach classes on everything from drawing and ceramics to printmaking and alternative photography. You can find their full class schedule here.
Located in East Denver, the Art Garage is a space for people of all ages to come together and learn about creative self-expression! They offer a wide range of classes from toddler craft workshops to adult ceramics courses. Click here to see their list of upcoming classes.
Photo courtesy of the Denver Art Society
This nonprofit co-op gallery is a space where anyone and everyone can view, learn and exhibit art in all forms. They offer a ton of different classes like "The Fundamentals of Oil Painting" and "Sunday Life Drawing Sessions" along with special events like First Friday Art Walks.
This music school gives you and your family the opportunity to learn a new art form—music! Anyone is welcome to take classes here on a variety of musical instruments, including guitar, piano, drum, bass, strings and brass/wind. Plus, they also offer voice lessons so you can finally up your shower singing game.
Ever wanted to learn how to screen print? Visit the Ink Lounge where you can participate in screen printing workshops and learn how to print your own design on t-shirts, posters and more. And after you're feeling comfortable with the craft, they even have an in-house open studio where you can create even more art.
Swallow Hill Music has been providing the Denver area with music classes since 1979—and there's a reason they've been around so long! Anyone is welcome to learn here, from beginners learning to hold and tune an instrument to advanced students focusing on a specific skill. They even host special concerts throughout the month, where you can see the masters in action.
Where will you begin?
What artsy Denver attraction will you explore first? Let us know in the comments below!