Denver has an incredibly diverse and delicious food scene. In fact, you can get just about anything you're craving here, whether that's pub food, global flavors, American classics or casual eateries. Don't believe us? Check out our list of the bakeries, artisan markets, vegan and vegetarian restaurants, brunch spots, and kid-friendly restaurants in the area! Just be sure to note their COVID-19 policies as they may change.
So whether you're just visiting or you're a local who wants to enjoy everything the Denver food scene has to offer—we've rounded up some of the best breakfasts, lunches, dinners, snacks and desserts in the area that you just have to try. Read on and let us know in the comments which dish you're planning to try first!
Jump Ahead:
Breakfast | Snacks + Appetizers | Lunch + Dinner | Desserts
Breakfast
Green Chile Breakfast Burritos from Santiago's
There's a reason that Santiago's has so many locations around Colorado—you just can't beat their Green Chili Breakfast Burritos. Eggs, potatoes and chef's choice of meat smothered in green chile—this fabulous burrito is a must-try.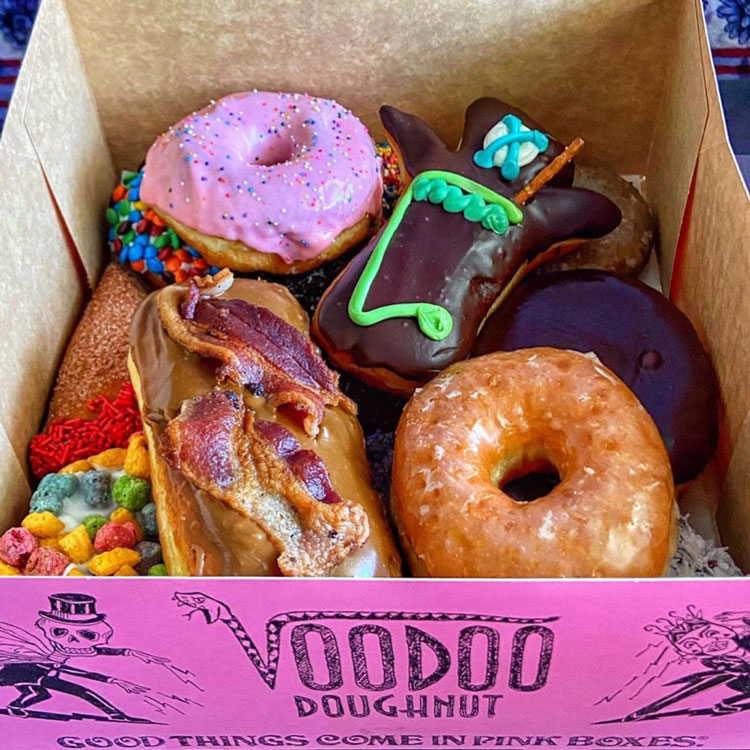 VooDoo Doughnuts may be a Portland signature spot, but it's slowly become a Denver favorite with two locations in the area. Their weirdly delicious doughnuts—covered in anything from breakfast cereal to bacon—should be at the top of your Denver breakfast bucket list.
Cast Iron French Toast at Steuben's
Brunch at Steuben's is a Denver pastime. Whether you order their iconic chicken and waffles or biscuits and gravy, you won't be disappointed. But if you're visiting for the first time, make sure to order their Cast Iron French toast topped with fresh berries, granola and caramel sauce.
For a healthier choice, don't miss the Smoothie Bowls at Whole Sol, a gluten-free, organic restaurant with some of the best brunch in town. Flavors like Orange Creamsicles, "Newtella" and Mango Pina Colada will wow you. Click here to see their full menu.
We will never get enough of Chicken and Waffles from Devil's Food. Right now, they are offering this delicious dish for curbside pickup—served with a side of maple syrup and gravy, of course!
While everything at this vegan/vegetarian-friendly spot is delicious, we love it for its DIY Oatmeal Bar that gives you the chance to create your perfect oatmeal for a yummy and healthy breakfast.
The Pancake Flight at Snooze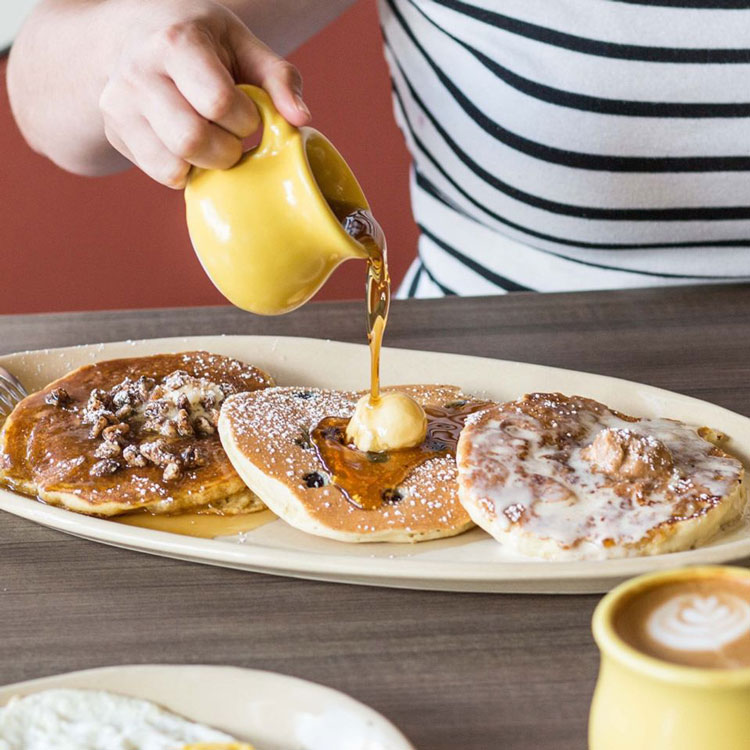 Snooze: An A.M. Eatery just has too many delicious pancakes varieties to choose from. That's why we recommend you order their signature Pancake Flight to get a taste of everything. Choose any three pancake flavors and get the best of all worlds.
Denver is famous for our omelets so it should be on the top of your list when trying to tackle all of our city's iconic eats. Two scrambled eggs filled with red onion, roasted red peppers, diced ham and cheddar cheese served with a salad, potatoes and toast—Olive and Finch does it right.
Breakfast Corn Dogs from The District
This marketplace restaurant combines four different concepts into one—Sauced Smokehouse, Salad on 17, Eatery Uptown and Big Truck Ice Cream. With all that deliciousness, there's definitely a few things on this menu you have to try. But one of our favorites is the Breakfast Corn Dogs. Two breakfast sausages flash-fried in cornbread batter with a side of dipping syrup? Yes, please!
Two words: bacon flight. And no, we're not talking about making pigs fly. We're talking about the incredible brunch appetizer at Bacon Social House! It features six different types of bacon including applewood, BBQ, candied, habanero, and paleo, along with a weekly rotating flavor.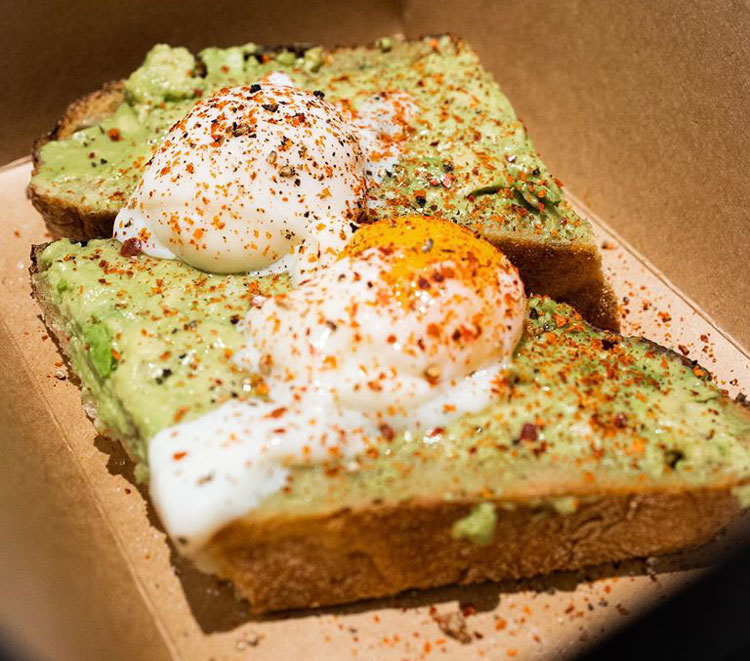 Avocado Toast has taken the world by storm over the past few years. If you're looking for the best spot to get it in the Mile High City, don't miss Thump Coffee! Theirs features fresh bread, creamy avocado, chili flakes and even a sunny-side-up egg if you want (trust us, you do).
Our go-to dish at this Denver staple is The Franklin: buttermilk fried chicken, bacon and cheddar cheese smothered in housemade sausage gravy (or vegetarian mushroom gravy).
Psst… if you really want to go all out, order one of their giant biscuit cinnamon rolls or ask for your favorite biscuit sandwich to be built on Biscuit French Toast.
Snacks + Appetizers
Tableside Guac from Lola
Lola's delicious, house-made guacamole comes with a never-ending basket of warm chips. And if that doesn't sound like heaven, we don't know what does.
No one does this Southern specialty better than Denver's farm-to-table restaurant Beast and Bottle. Stop in for an order and a glass of wine—they are fresh and always paired with a side of bacon-horseradish aioli.
Seafood Potstickers from TAG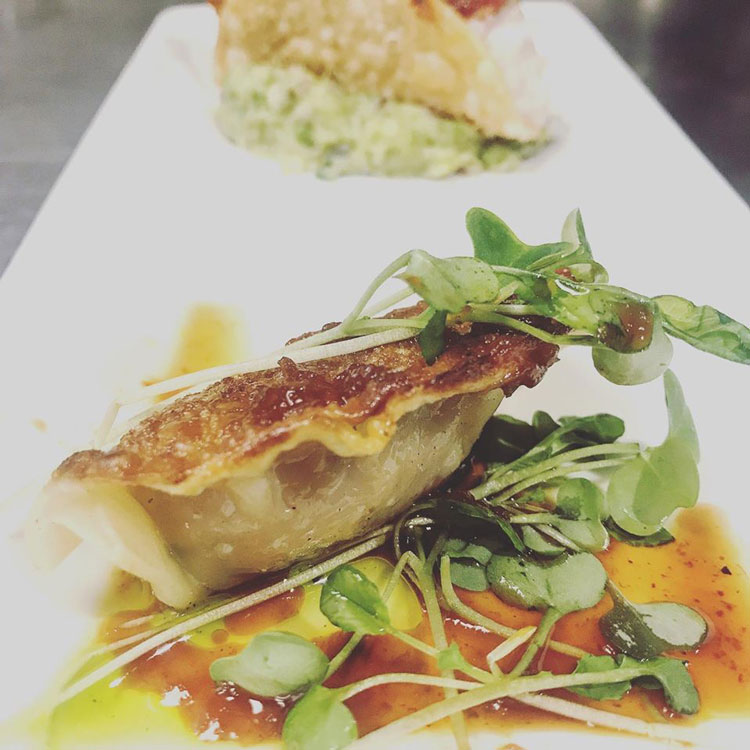 Everything at TAG is fresh and delicious. And if you happen to be there during happy hour, don't miss their steamed and crisped Seafood Potstickers, which are perfect as an appetizer or for a whole entree if you don't feel like sharing.
Beatrice & Woodsley is currently closed due to the coronavirus, but once they reopen we can't wait to get our hands on their delicious Goat Cheese Croquette appetizer! Almond crusted with acidulated apple and dark berry compote — just the description of this nosh makes us hungry.
Wings and ping pong? Count us in! Ace Eat Serve is more than a modern Asian restaurant—it's also a ping pong destination where you can eat and play all at the same time. When you visit, don't miss their yummy appetizers, especially their sweet and salty Tiger Wings!
The Linger Wagyu Slider at Linger
Linger, Denver's favorite "eatuary," has some of the best happy hour grub in town. Our favorite selection is their Wagyu Sliders, which features bacon onion jam, cheddar, curry-dill pickle, sweet potato waffle fries and chipotle ketchup—best enjoyed on their beautiful rooftop patio.
Denver's favorite new Middle Eastern restaurant, Ash'Kara offers a menu of small plates, a couple of entrees and a ton of great drinks. No matter what you decide to order, make sure you also get a bowl of their signature hummus topped with anything you could ever want.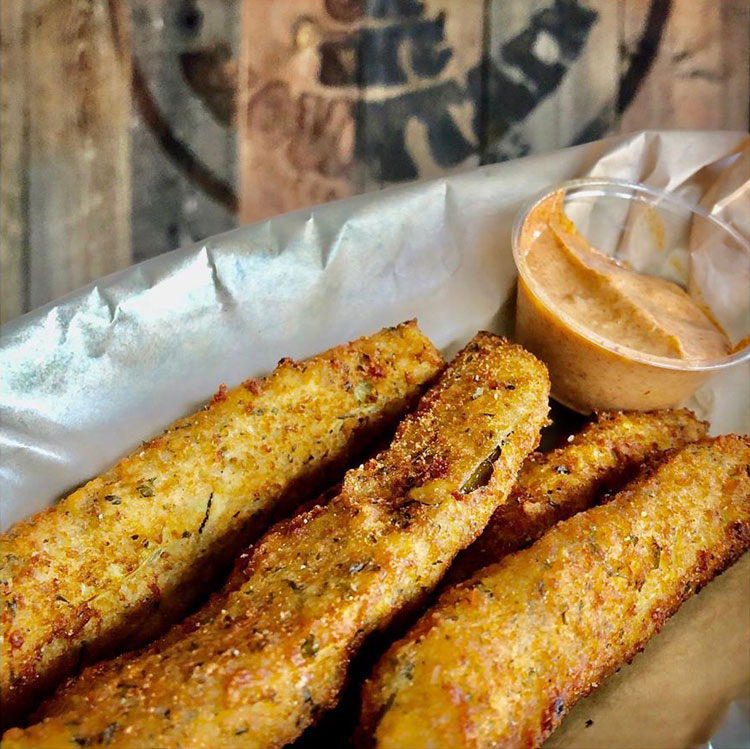 Fire on the Mountain wings are one of our favorite things to eat in Denver, but it's their tantalizing fried pickles that have landed them on this list! Hand-breaded with a side of chipotle mayo, you won't regret getting these as an appetizer (or an entree—we don't judge!).
Sourdough Toast from Dio Mio
Dio Mio only uses the freshest ingredients so their menu is always changing. But if you happen to be there when their Sourdough Toast appetizer is on the menu—order it! This tasty dish features prosciutto, stracciatella and 15-year old balsamic vinaigrette.
Artichoke Heart Fritters at The Hornet
The Hornet, one of South Broadway's favorite eateries, serves a plethora of delicious appetizers during happy hour, including Artichoke Heart Fritters! These yummy, fried vegetables come with lemon cayenne aioli and are only $7, 4-7 p.m., Monday-Saturday.
Rocky Mountain Oysters, Colorado's most famous dish, definitely isn't seafood. They're actually bull testicles, fried and served with a variety of dips. But don't knock it until you've tried it! Head to Denver's oldest restaurant, Buckhorn Exchange, and order their famous appetizer that comes with horseradish dipping sauce.
Lou's may be known for their chicken, but today we're highlighting their $3 mac and cheese! This creamy side is perfect with their crispy Nashville hot chicken, but we've been known to go to Lou's just for their mac when we need a pick-me-up.
Lunch + Dinner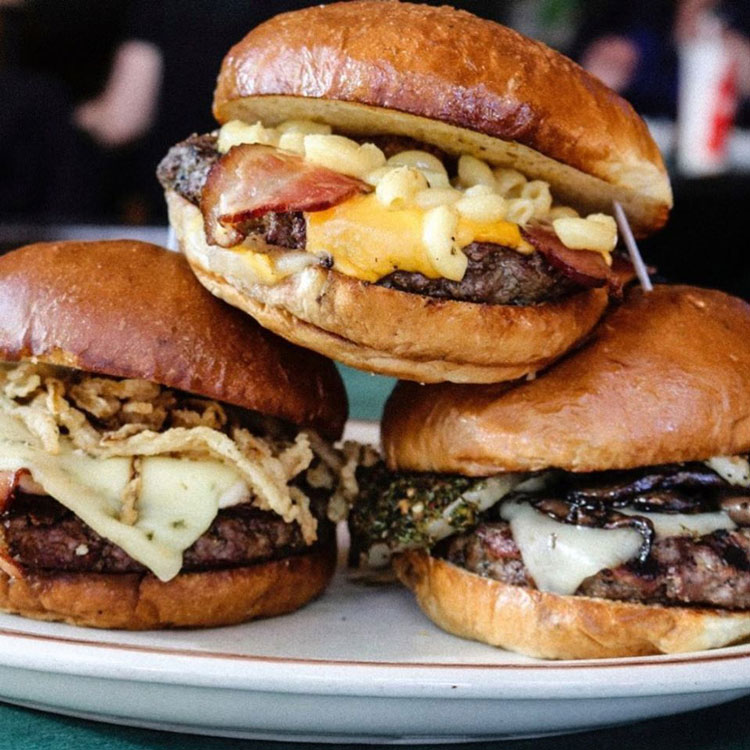 The Cherry Cricket has been serving the best burgers in Denver since 1945. Just pick your type of patty, all of your fixings from their vast list of burger toppings (which includes raspberry and grape jam), and your type of bun, gluten-free or non.
Illegal Pete's is a local favorite for tasty burritos, quesadillas, taquitos and so much more! But if you only have time to get one thing, make sure it's their Original Potato Burrito Bowl, which features your choice of meat and other burrito fixings all on top of hand-cut, fried potatoes.
When you're looking for something quick and healthy, you can't go wrong with Vital Root's incredible Cobb Salad! Egg, coconut, "bacon", dates, feta, tomato, radish, lentils, mung beans, smoked almonds and toga-ranch-i make up this delicious, vegetarian-friendly dish.
Eating Green Chile from Sam's No. 3 is almost a religious experience. It's so great that people come from all over the world to try it—and we're not exaggerating. Hot, spicy and soothing, we love eating this signature Denver dish all by itself and on top of burritos, fries, omelets and more. Plus, Sam's No. 3 even has this delectable dish in vegetarian form for all your non-meat eating friends.
A Gourmet Hot Dog from Biker Jim's
It's not often that we hear the words "hot dog" and "gourmet" in the same sentence, but Biker Jims makes them go together perfectly. They offer 15 different gourmet sausages, ranging from wild boar and Alaskan reindeer to pheasant cordon blue and an award-winning vegan dog.
French Onion Soup Dumplings at ChoLon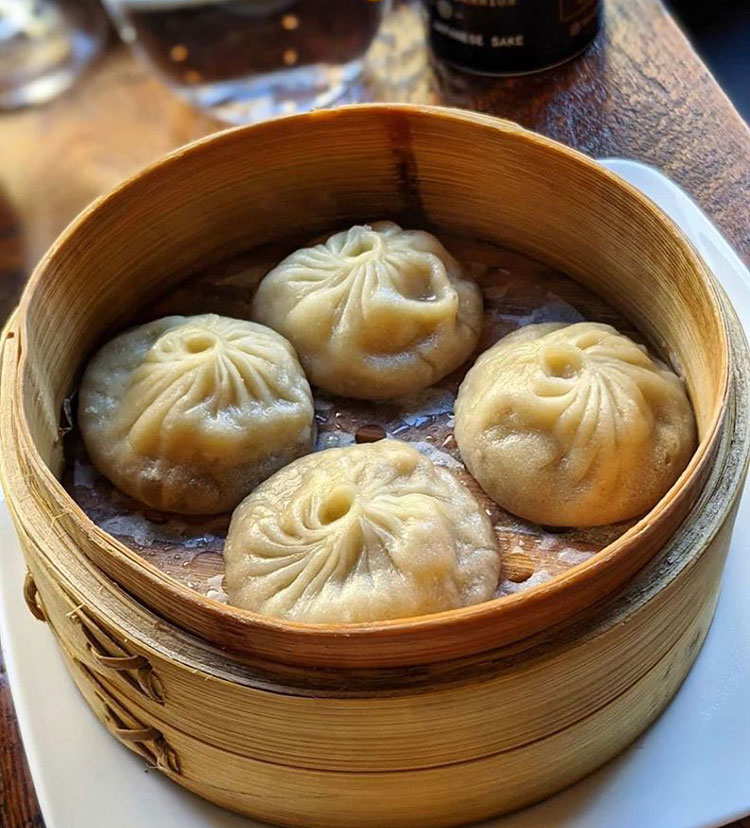 This modern Asian restaurant plays on traditional dishes found across the Far East with some nods to European cuisine. Their French Onion Soup Dumplings are a must-try. They're beautifully steamed, packed full of French Onion soup and Gruyere cheese.
In a landlocked state like Colorado, it can be hard to imagine that there's fresh, delicious seafood here. But there is! Fish N Beer actually ships the highest quality seafood directly from both coasts to their kitchen. Enjoy their fresh fish fried in Ratio Mexican Lager-batter and served with a basket of fries.
You never would have guessed that a Cap Hill bar is home to the best chicken pot pie in Denver—but Prohibition is here to prove all of your assumptions incorrect. Their 20+ Minute Chicken Pot Pie is crispy on the outside, soft on the inside and oh-so-delicious.
This Venezuelan restaurant is a 100% gluten-free establishment, which means their incredible Arepas are fresh, delicious AND made from a corn-based flatbread. Just choose your ingredients, get a freshly cracked coconut as your beverage, and get to eating one of the best meals in Denver.
The sandwiches from Vert Kitchen are so good we couldn't pick just one! BBQ Pork Shoulder, BLT, Curry Chicken, Turkey with Fig Jam and Brie—no matter which one you pick, you're in for a treat.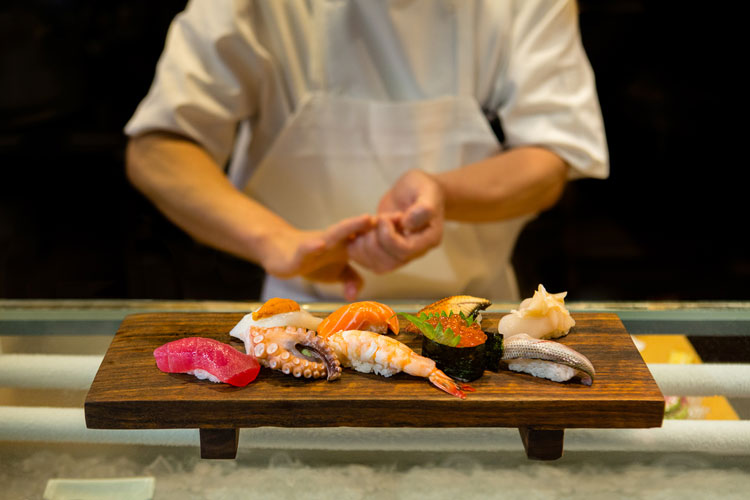 If you're looking to splurge a little on dinner, Izakaya Den's spectacular sushi is absolutely worth it. Whether you want to go for a classic California Roll or want to order one of their signature rolls like the Wagyu Beef Roll, we promise you won't be disappointed.
The Pappardelle Bolognese from Angelo's
Homemade pappardelle pasta with cream and parmesan cheese—the Pappardelle Bolognese from Angelo's is an actual slice of heaven. No matter what we're in the mood for, we'll never say no to this im-pasta-bly delicious dish.
For the best crab in town, head to The Crawling Crab! Blue Crab, Dungeness, Snow and King—they've got it all with a variety of flavor choices, spice levels and sides.
Colorado Lamb Burger from Root Down
If you didn't already know, Colorado is known for our incredible lamb. Try it out in one of the best ways imaginable: the Colorado Lamb Burger from Root Down. This spectacular sandwich features spiced ground lamb, bacon, aged cheddar, slaw, Harissa Aioli and comes with a side of sweet potato fries!
Ramen from Osaka
One of our favorite places for ramen in Denver, Osaka never disappoints. We won't even try to narrow down all their delicious selections, but everything on their menu is absolutely delicious.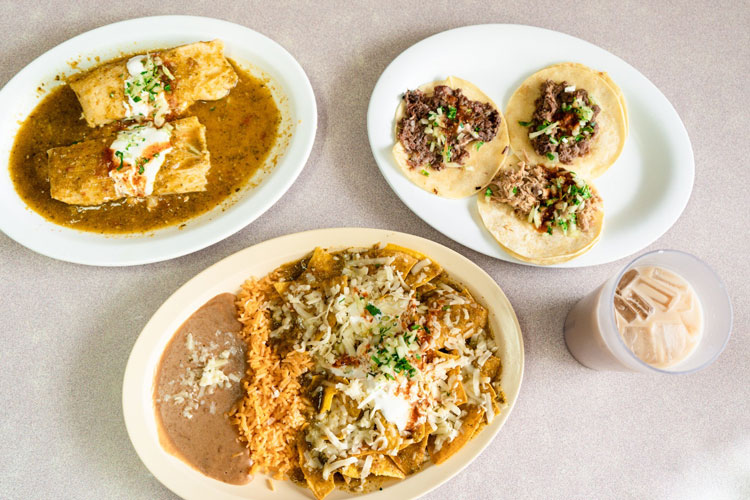 We aren't lacking in the delicious tacos department here in Denver, but if you're looking for the cream of the crop, head to El Taco de Mexico! We're particularly fond of their Asada and their marinated pork, but there are plenty more to choose from.
Mountain Pie is a mountainous thick-crust pizza that features a honey-sweetened crust and is topped with tons of cheese and other toppings of your choice. Visit Beau Jo's—where this Colorado staple originated—and try this incredible creation for yourself.
If you're a vegetarian looking to get a little crazy, make sure to try the Boomer Poutine from Euclid Hall! This dish features fries topped with cheddar cheese curds, Jarlsberg cheese, mushroom gravy, sautéed oyster mushrooms, onions and lemon parsley bread crumbs.
Brined for over 18 hours then cooked to perfection, Tupelo Honey's Famous Fried Chicken is one of our favorite things in the world. Try it dusted with their signature "Bee Dust," buffalo-style with bleu cheese crumbles, or sweet and spicy with Sriracha honey sauce and cilantro.
Desserts
We just couldn't create a list of must-try Denver dishes without mentioning the ever-iconic Little Man Ice Cream! This spot has been a favorite since it opened its doors in 2008. Their salted Oreo flavor is a dream come true and if you haven't tried it yet—what are you waiting for?
Poptart Ice Cream Sandwiches at Ice Cream Riot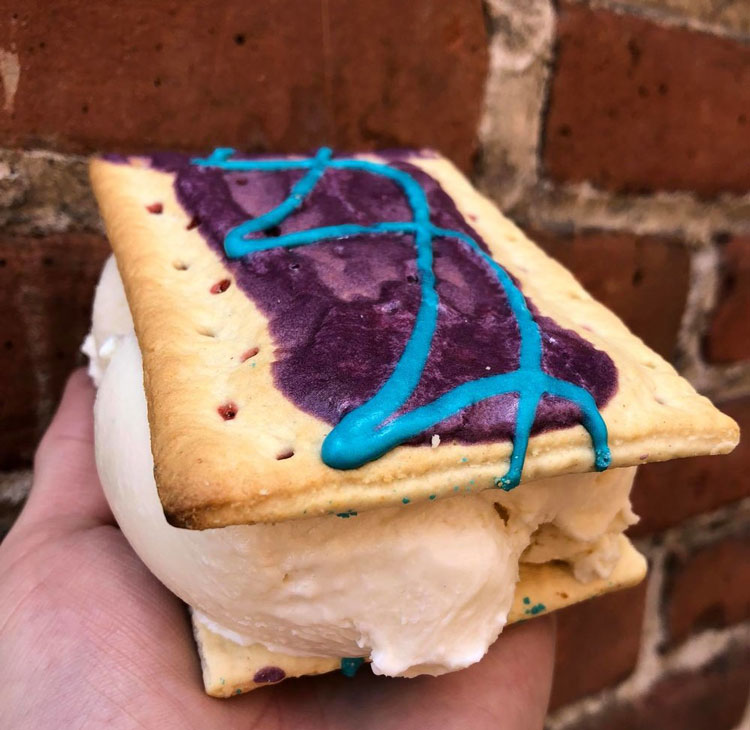 Pop-Tarts aren't just a breakfast staple anymore! Ice Cream Riot has turned them into a tried and true dessert delicacy and we're never going back to putting them in the toaster again. And the best part? You get to create your own! Choose two Pop-Tarts and two scoops of ice cream and then revel in your creation in their adorable cafe in Capitol Hill.
Palisade peaches are one of Colorado's most iconic foods, so we had to include at least one dessert that features this sweet and delicious fruit. Wooden Spoon Cafe & Bakery has a delicious Peach Galette in the summer that utilizes fresh, local fruit in a unique and tasty way.
The beignets at Lucile's are so good that they are offered both as an appetizer and a dessert. These fluffy, pillowy confections are served hot and topped with powdered sugar and are just as good as any you'll find in New Orleans—yeah, we said it!
Yes, you read that correctly. "Exploding Whipped Cream" is The Inventing Room Dessert Shop's nitrogen-frozen whipped cream that produces billowing "smoke." We love it on top of their Frozen Mocha for a coffee-twist, but it can be enjoyed on any of the interesting creations The Inventing Room whips up—like nitrogen-frozen milkshakes, sundaes and root beer floats.
Psst… The Inventing Room Dessert Shop is only open to advanced ticket holders during the COVID-19 pandemic. You can purchase your tickets on their website.
The ice cream at High Point Creamery is too good to just choose one flavor. That's why we're extremely grateful for their ice cream flight, which allows you to choose five different scoops of ice cream and one sauce to put on top. Missing it during the pandemic? Don't worry, you can get it to-go!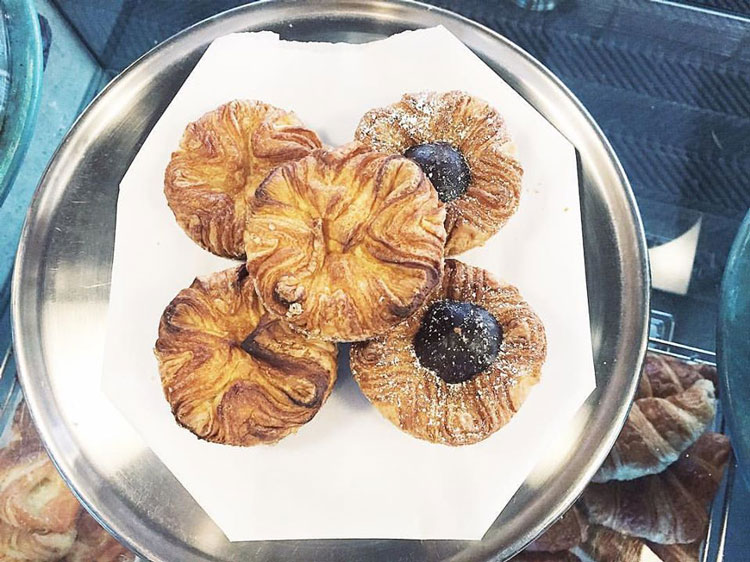 Denver is a coffee lover's heaven, so we couldn't leave the perfect combination of coffee and dessert off of this list! Head to Steam Espresso Bar for a mug of local espresso and order one of their delicious French pastries. Their selection is always changing, but no matter what you get we promise it will be delicious!
Gluten-Free Turtle Brownies from Beet Box
If you're looking for a gluten-free dessert option, don't miss Beet Box's Turtle Brownies! These treats are ooey-gooey, fudgy and, of course, completely gluten-free.
This adorable creperie with locations in Cherry Creek North, Writers Square and Highland is known for—you guessed it—their delicious and simple crepes full of sweet and savory ingredients. Don't miss the Borneo Crepe, which is a crepe crisped into a bowl with vanilla and chocolate ice cream, strawberries, bananas and your choice of sauce.
A bakery and dispensary combo is the most Denver thing we can think of. Our favorite of their daily donuts is the "Feed My Habit," covered in raspberry glaze, streusel, white chocolate and blueberries.
A Cake and Shake from D Bar
D Bar's Cake and Shake dessert special is exactly what it sounds like—a three-layer chocolate cake topped with Madagascar chocolate frosting and paired with your choice of vanilla, chocolate or raspberry shake/malt. Talk about indulgent!
What would you add?
Did we miss your favorite Denver dish? Let us know in the comments!