While we like telling ghost stories all year long, there's something special about swapping bone-chilling tales on a cold fall evening. If you're on the hunt for some new spooky reads, you're in luck! Denver is home to a plethora of terrifying stories that will keep you up all night long.
From hotels offering ghastly pasts to a park built right on top of an old graveyard, our city is filled with historical hauntings. We rounded up a few of the most (supposedly) haunted places in Denver, all with a creepy story of their own. Read on, but don't blame us if you have a hard time getting to sleep tonight.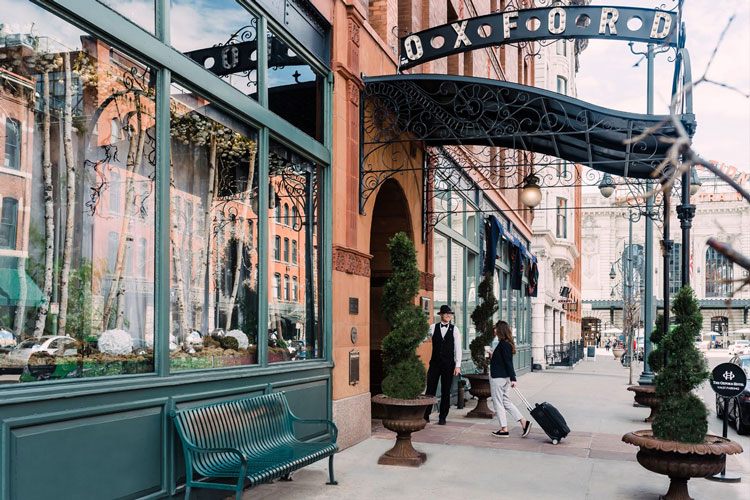 Located in LoDo, The Oxford Hotel is Denver's oldest boutique hotel. It was founded in 1891 and has seen Denver through the Art Deco stylings of the 1930s, the tourism boom in the 1950s and major renovations to the city in the 1980s. But tales of mysterious flickering lights, faucets running on their own, and guests locking themselves into their rooms have started to give this historic hotel a pretty spooky reputation.
The most iconic ghost story from The Oxford originated in 1898, when a woman named Florence Montague shot and killed her lover before taking her own life in room 320. Since then, many single male guests who stay in Room 320 report having their covers violently tugged away in the middle of the night.
Cheesman Park
North Downing Street to York Street, Denver
If you live in Denver or have ever spent time exploring everything The Mile High City has to offer, it's likely that you've strolled through Cheesman Park at least once. While this historic park feels anything but creepy, it was actually built over the top of an old cemetery in 1898. Yes, you read that right! That lush green space, packed full of flowers where you've walked your dog or enjoyed a picnic was developed on top of a packed cemetery. It isn't uncommon to hear of remains being unearthed in the park—even as late as 2008, road workers doing routine maintenance discovered human bones during their repairs.
Legend has it that more than 2,000 ghosts still roam the park, angry that their graves were never moved during the park's development. Many people say they unexpectedly experienced overwhelming sadness while in the area. But other reports are more specific, often including the sounds of whispering voices and moans, as well as seeing ghostly apparitions while visiting the area at night. Children playing; a woman singing to herself; strange shadows wandering through the park in confusion—the stories of hauntings in Cheesman Park are endless.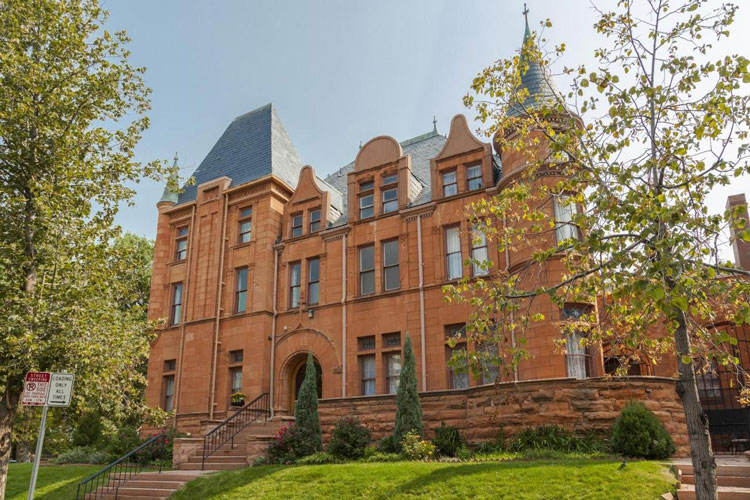 Constructed in 1891, the Croke-Patterson Mansion (now known as the Patterson Historic Inn) has often been deemed the most haunted house in Denver. From dog suicides to reports of a former caretaker's ghost roaming the grounds, the mansion has such a long list of reported hauntings that it actually has a book and a documentary dedicated to it. It was even featured on an episode of Portals to Hell, just in case you were wondering exactly how haunted this historic spot actually is.
The house itself is located in Capitol Hill and while it was once the home of Thomas B. Croke, it has since been turned into a quaint, albeit slightly creepy, bed and breakfast. It's made of red sandstone and consists of 14,000 square feet of elegant beauty. While the majority of the haunting stories come from when the home was actually being remodeled, many still report seeing the spirit of a little girl who is buried deep in the basement floor.
For Denver residents, The Brown Palace has become a place for fun weekend staycations, quaint afternoon tea services and luxurious spa days. But there are some sinister stories under all the opulence, which has caused many to believe this downtown spot is haunted.
The hotel opened its doors on August 12, 1892 and has played host to a slew of presidents, prime ministers and celebrities ever since. The Brown Palace Club, which is a gentlemen's club that once served as the campaign headquarters for Dwitght D. Eisenhower, is the biggest source of bone-chilling stories. Many report lights that turn on and off by themselves and a carpet that crawls under your feet like something is alive. Others claim that they have seen a man in a railroad conductor uniform wandering the club. When approached, he allegedly retreats to the ground floor and into the corner wall of the hotel—which was once the Rock Island Railroad ticket office.
200 East Colfax Avenue, Denver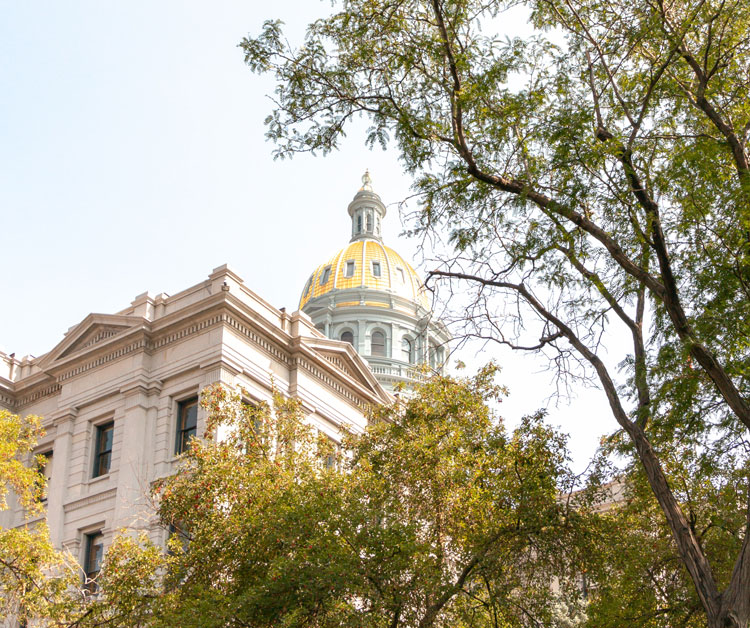 While politics are plenty scary on their own, there's another reason you should be wary of visiting the Colorado State Capitol Building: it could be crawling with ghosts.
Disembodied floating heads, the sounds of ghostly horses, restless spirits wandering the top floor have all been reported by curious Capitol visitors. One of the most common sightings is a white vapor that rises from the Senate and forms itself into a Victorian lady. Many believe she's the ghost of a jealous senator's wife. Others report seeing a phantom nicknamed "Henry" who wanders the Capitol, guarding a secret stash of cash that is reportedly hidden in the tunnels beneath the building.
Buckhorn Exchange, a Denver destination for unique meats—including their famed Rocky Mountain Oysters—is more than just meets the eye. It's the oldest steakhouse in the state, having been in operation since 1893. It was also one of the very first fur trading posts in the area. And with a rich past like that, it's bound to have a few ghost stories.
Visitors have reported everything from disembodied voices to phantom footsteps sounding through the building. The waitstaff has also witnessed chairs sliding away from tables on their own, as if a ghostly diner has finished their meal and is standing up.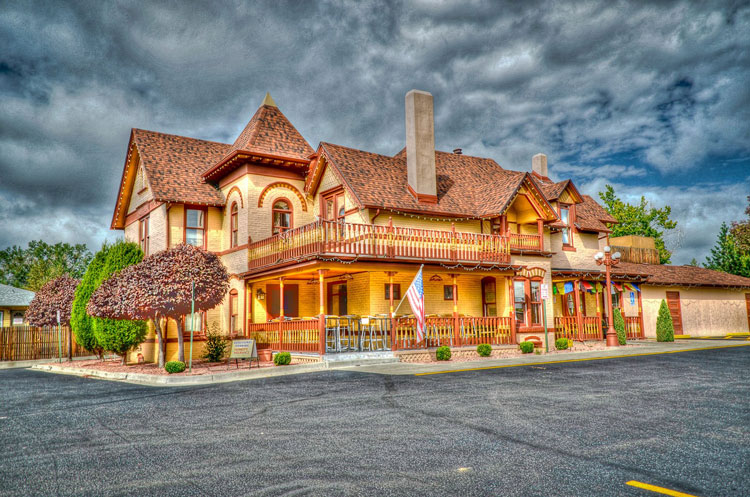 Speaking of old, haunted restaurants, we can't forget one of Arvada's favorite dining spots: The Yak & Yeti! While today this brewpub is known for its delicious Nepalese cuisine, it also has a bit of a creepy past. Long before it became the dining establishment we know today, it was a house built by a man named Eli Allen in 1864. Allen was the Arvada postmaster at the time and operated the post office from his home. When he died, the home passed to his son, who sold it to Elias and Cora VanVoorhis—who would later become The Yak & Yeti's most iconic ghost. In the 1940's, Cora died from injuries suffered in a fall down the stairs, which are still used in the restaurant today.
While Cora's body may have been removed from the historic building, her spirit reportedly remains and can be seen wandering the restaurant. There have been other reports of ghostly activity in the building, so many in fact, that a team of ghost hunters was called in to investigate. You can see the results of their investigation (during which they got videos of chairs moving on their own and recordings of disembodied voices) here.
Hotel Teatro, located in downtown Denver is surrounded by culinary hotspots and one of Denver's most popular high-end shopping destinations. While this luxurious hotel looks anything but haunted from the outside, guests have long been reporting strange occurrences during their stay.
The hotel itself wasn't always a place for rest and relaxation. It was originally built to be an office tower for the Denver Tramway Company. It wasn't until 1994, when new owners purchased the building, that it finally came to be the hotel we know and love. But it was during the remodeling that stuff really started to get freaky. During construction, crews began to hear strange voices coming from empty rooms—and it didn't stop there. Today, guests report sightings of "the tool man", a former mechanic who once worked on railcars in the building's basement. Since his tragic death during a work-related accident, he's been spotted carrying tools and wandering the halls of the building.
1340 Pennsylvania Street, Denver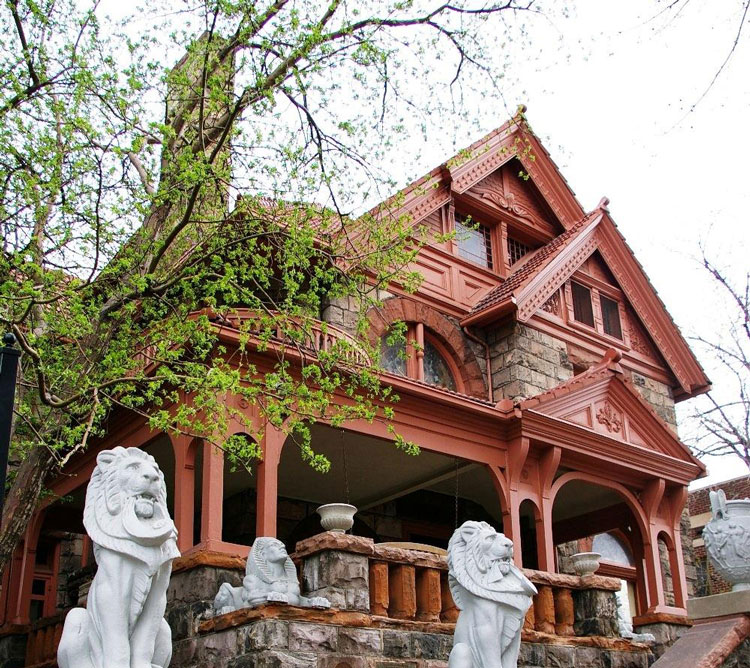 If you asked us who our favorite character is in James Cameron's Titanic, we would probably have to say Molly Brown, a sassy, helpful Denverite played by Kathy Bates who was constantly rooting for Jack to succeed. While Jack and Rose never existed (sorry hopeless romantics), Molly Brown did! She was independent, out-spoken and known for constantly challenging societal norms. After surviving the Titanic's sinking, she became a bit of a celebrity. Years after her death, her Denver home was restored and opened to the public as a museum.
According to rumors, she and her husband are just as stubborn in death as they were in life, and are still hanging out at their old home. Many report having seen Molly and her husband wandering the museum. Some even say they've smelled phantom cigar smoke emanating from Mr. Brown's room.
Riverside Cemetery
It's probably not a shock to you that one of the spookiest spots on this list is an actual cemetery. While Riverside Cemetery on Brighton Boulevard hasn't sold new plots for almost a decade, it is still one of the most-visited graveyards in Denver—mostly, because people say it's haunted.
This massive cemetery is the oldest operating graveyard in Denver and is the final resting place for over 67,000 people, including many of the area's most fascinating citizens. Silas Soule, Jack the Strangler victim Kiku Oyama, Civil War veterans, Medal of Honor recipients, and hundreds of other notable Denverites have been laid to rest here, many of which you can supposedly see walking through the grounds at night. The cemetery has played into its haunted reputation, even offering guided ghost tours throughout the area. While you might not see an actual ghost during the tour, you'll probably find yourself face-to-face with hired actors dressed like iconic Denver figures who will have a ghostly tale to tell you.
Are you scared yet?
Dever is packed full of haunted destinations! Did we miss your favorite? Tell us all about it in the comments below!