National Colorado Day is coming up soon and it made us a bit sentimental. So to celebrate, we're sharing 100 reasons why we love living in Colorado. Our list includes everything from our beautiful scenery and our thriving craft beer scene to the incredible people that make our state so great.
Read through our list and then let us know why you love living here in the comments below!
1. There's easy access to the outdoors
With an abundance of waterfalls, national parks, green space and much more, "the great outdoors" isn't hard to find in Colorado.
2. You can't beat the scenery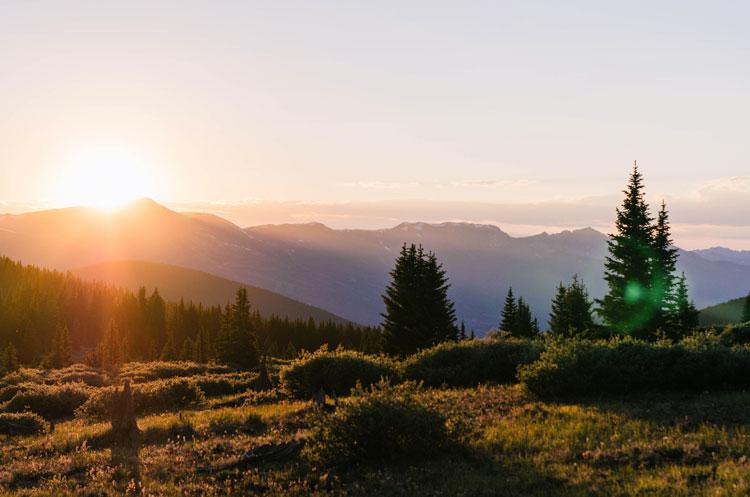 Whenever you ask someone why they love living in Colorado, nine out of ten times they'll say "Because it's just so pretty!" and we absolutely agree. No matter where you are in the state, you'll be greeted by incredible views of mountains, interesting rock formations, prairies and more.
3. You can experience all 4 seasons (sometimes in one day)
While Colorado is lucky to enjoy glorious sunshine for 80% of the year, the weather can change drastically. Just last year, we had an 83-degree day followed by a snowstorm, but that's all just part about being a true Coloradan.
4. We enjoy more than 300 days of sunshine a year
Yes, you heard us—Coloradans enjoy more than 300 days of sunshine a year which means we get more opportunities to explore the great outdoors and rarely have an umbrella when we need one.
5. Our sunsets are magnificent
With all that sunshine comes jaw-dropping sunsets over the Rockies.
6. The diverse geography
One of our favorite parts about living here is that we don't have to go very far to experience something new. Craving a mountain adventure? Head to the Rockies. Looking for a night on the town? Spend the evening in one of our large cities. Want to explore the desert? Check out our unique mesas. No matter what type of geography you want to surround yourself with, Colorado has it in abundance.
7. All of the many green spaces
It isn't hard to find green spaces around Colorado, even when you're in the heart of the city. Areas like Denver, Colorado Springs, Boulder and Grand Junction have plenty of parks and open spaces for whenever you need a breath of fresh air.
8. We have some of the best winter sports in the country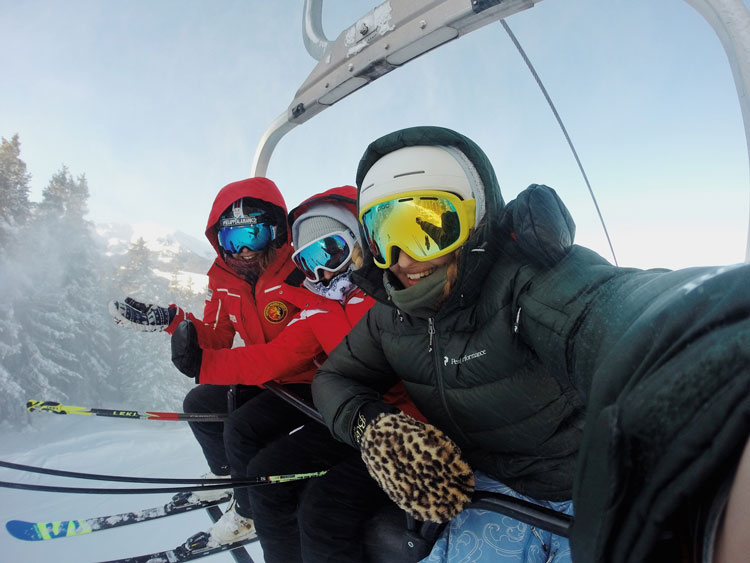 Colorado's average snowfall is about 60-100 inches and closer to 120 inches in the mountains some years—and we make the most of it! Skiing, snowboarding, tubing—if you can do it on snow or ice, we've turned it into a statewide pastime.
– Skiing
Skiing in Colorado is more than just a hobby, it's a lifestyle. We have more than 30 ski resorts all around the state, all offering interesting and beautiful places to shred.
– Snowboarding
Where there's skiing, there's snowboarding. And with snowboarding comes thousands of enthusiastic snowboarders who will swear that it's better than skiing.
– Snowshoeing
The more peaceful of the winter sports, snowshoeing is a quiet, adventurous way to hike in the winter. So if you know of a trail that you love to hike in the summer—we aren't surprised, Colorado is packed full of amazing hikes—try it again on snowshoe in the winter. We promise that it will be 20 times more beautiful covered in bright, white snow. Looking for a place around Denver to snowshoe? Check out our guide!
– Cross Country Skiing
A tough, rewarding sport, cross country skiing is a favorite among Coloradans. Some in more remote areas even use it as their main form of transportation in the winter.
– Snow Tubing
Anyone who says that tubing is only a summer sport hasn't been snow tubing yet! There's just something about riding a big rubber innertube down a snowy hillside that brings out our inner child. If you haven't tried it yet, check out our list of Family-Friendly Outdoor Winter Activities and Parks in Colorado for a list of places to visit!
– Ice Skating
From indoor rinks for hockey and figure skating practice to the outdoor rinks that pop up throughout the state every winter, ice skating is a family favorite all year long.
– Ice Fishing
Ice fishing in Colorado has grown in popularity in recent years, with many fishing enthusiasts flocking to the Rockies every winter for a time on the ice. There are plenty of beautiful lakes in the mountains that are perfect for this seasonal sport, just make sure to consult the Colorado Parks & Wildlife ice-fishing safety tips before you go!
16. As well as plenty in the summer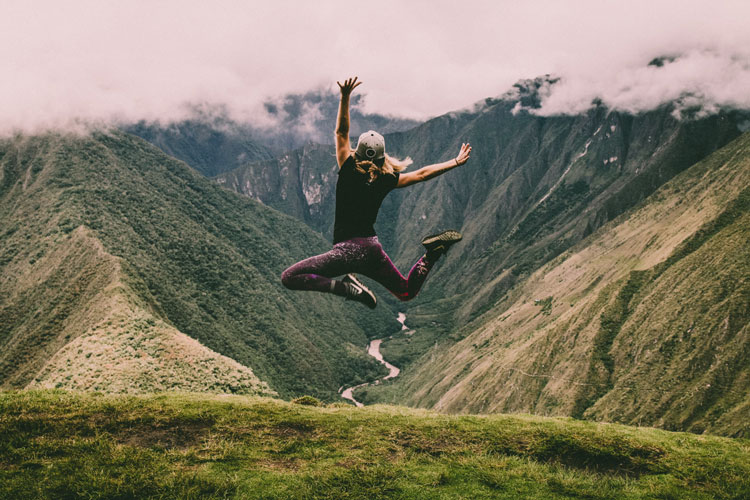 If you thought winter was beautiful in Colorado, just wait until summer! Mild, sunny and thriving, CO has so much to offer during the warmer months. Every year, we enjoy hiking, rock climbing, golfing, mountain biking and much, much more.
– Hiking
Colorado is a hiking enthusiast's paradise. From out-of-this-world desert hikes to sky-high mountain hikes, our spectacular state has it all. Just check out these lake hikes in near Denver if you're looking for an amazing adventure.
– Rock Climbing
Whether you love indoor rock climbing or scaling the side of a mountain, there is an abundance of places to do both in Colorado.
– Whitewater Rafting
Whitewater rafting is one of our favorite summer activities. Barrelling down a rough river with friends is a Colorado rite of passage. Looking for a place to try it for the first time? Check out our list of the best water activities in Colorado to get started.
– Golfing
Colorado's interesting landscape, scenery and great weather make it an ideal place for golfers. If you happen to be living in the Denver area, check out our list of the best public golf courses in the city!
– Mountain Biking
Colorado is a bike-friendly state through and through. But those who are looking for something a bit more adventurous than a casual bike ride are big fans of mountain biking. This amazing sport gives you the chance to explore our amazing state through rocky hills and extraordinary terrain.
– Fishing
Colorado may be landlocked, but that doesn't mean we don't have our fair share of great fishing spots! Anglers love it here and once you've tried Rocky Mountain trout, you'll be in love with CO forever, too.
– Horseback Riding
With all of the horse ranches around the state, it's no surprise that we're also big fans of horseback riding here. From exploring the countryside to competitive riding, seeing Colorado on horseback is a whole new experience.
– Ziplining
If you've never hurtled down a mountainside in a harness, holding on to a handle attached to a giant zip line, you haven't lived. Colorado is home to a ton of amazing ziplining destinations and tours so you can get an aerial view of just how pretty our state is.
– Kayaking
Kayaking is a favorite warm-weather pastime around here, with Coloradans taking advantage of our crystal clear lakes, ponds and rivers whenever summertime hits. Some of us love it so much that we even own our own kayaks. But if you're just trying it out for the first time, don't worry. Where there's water in Colorado, there's usually a spot to rent kayaks, paddleboards, boats and other water exploration equipment nearby!
– Swimming
From our incredible lakes and rivers to our water parks and public pools, Colorado is a destination for swimming in the summer. Just pop on your bathing suit and dive right in.
– Disc Golf
If traditional golfing isn't really your thing, try disc golf—a fun sport that features a frisbee and carefully positioned goals at many parks around the state. The best part? Disc golf is completely free! You just have to find a local park that offers it as an activity. You can find a list of all registered disc golf courses in the state, here.
28. Colorado is home to 81 waterfalls…
We're not exaggerating when we say 81! If you love waterfall hunting or just need a great reward at the end of a long hike, Colorado's beautiful water features will never disappoint.
29. …And 58 fourteeners
14,000 feet in elevation is a massive feat. So it's no wonder Coloradans are so proud of having 58 mountains that reach that staggering height. Did you know that you can hit three or four in just one day of hiking? Visit our article "Hike 4 Colorado Fourteeners in One Day" to learn how.
30. The Historic Hot Springs Loop
Thermal hot springs flow abundantly throughout the Colorado Rocky Mountains and we have been soaking in them for years. Five premier hot springs destinations in the western part of the state make up the 720-mile Colorado Historic Hot Springs Loop, which we love exploring whenever we need a #selfcare day.
31. We have an abundance of state parks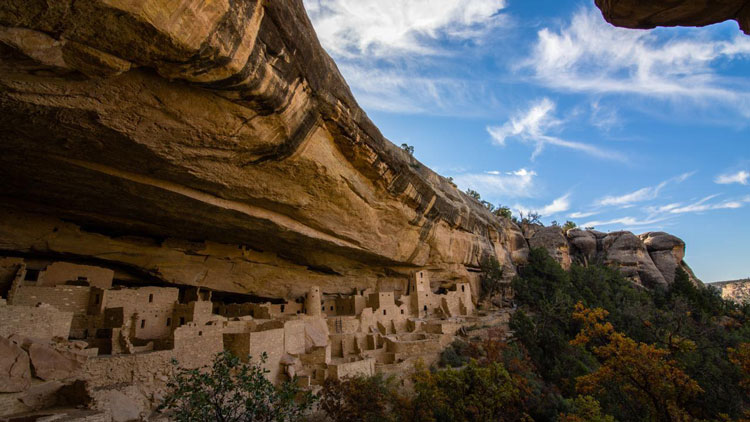 Colorado isn't lacking in the green space department. We have so many spaces dedicated to the wildlife that it's a wonder we also have large cities here! Barr Lake State Park, Chatfield State Park, Cherry Creek State Park and Trinidad Lake State Park are just a few of the many we have located all across Colorado. Check out this full list from the Colorado Parks Department and put them on your bucket list!
In addition to state parks, Colorado also has our fill of National Parks! Mesa Verde National Park is in southwest Colorado and is known for its well-preserved Ancestral Puebloan cliff dwellings.
Great Sand Dunes National Park and Preserve is in southern Colorado. It's famous for huge dunes like the towering Star Dune and for the seasonal Medano Creek and beach created at the base of the dunes.
Arguably the most famous natural landmark in Colorado, Rocky Mountain National Park in northern Colorado spans the Continental Divide and encompasses the protected mountains, forests and alpine tundra.
Black Canyon of the Gunnison National Park is in western Colorado. It surrounds part of a deep, steep-walled gorge carved through the Precambrian rock by the Gunnison River.
Red Rocks Amphitheater is one of the most iconic spots to see a concert in the entire country and it's right in our backyard! If music isn't your thing, don't worry! This natural rock formation is a great place to catch comedy acts, movies, a great workout and the sunrise on a warm morning.
37. The Flatirons
Is there any rock formation more iconic than The Flatirons? We can't think of a better hiking and picnic spot than this.
38. Our beautiful Sunflower Fields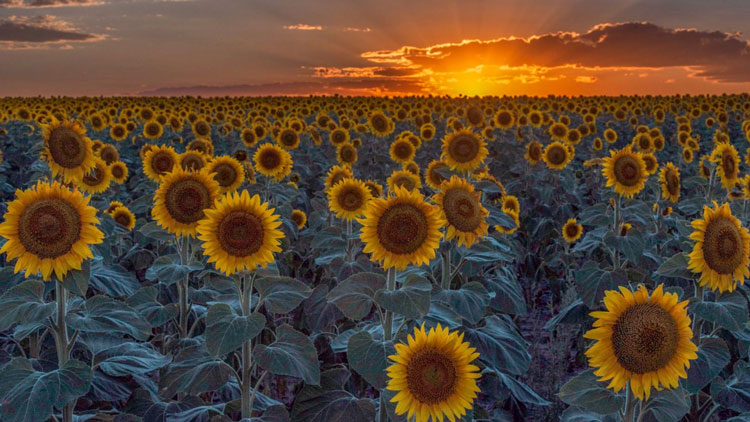 The sunflower fields near the Denver International Airport are practically a national landmark and cannot be missed during late summer.
A palace fit for an ice princess, the Dillon Ice Castles are a must-visit. This awe-inspiring cold-weather phenomenon built with hundreds of thousands of icicles brings fairy tales to life every winter.
40. All of the beautiful lakes….
We honestly just can't get enough of Colorado's amazing lakes. From man-made reservoirs to hidden mountain lochs, our state's water features are some of our favorite things in the world. Here's a list of our favorite lake hikes near Denver!
41. …And incredible rivers
The Arkansas River, The South Platte River, The San Juan River, The Doloras River—Colorado is full of amazing, sparkling rivers to explore, whether by bridge or in a kayak!
42. All of the National Monuments
Whether man-made or earth-made, Colorado's many National Monuments are sights to behold. You don't want to miss the Colorado National Monument in Fruita, the Browns Canyon National Monument in Salida or the Chimney Rock National Monument in Chimney Rock.
Garden of the Gods is one of the most amazing geological wonders in Colorado, featuring bright red rocks, sprouting out from the ground and soaring high into the sky. This beautiful wonder can be found in Colorado Springs, just 1.5 hours south of Denver.
44. The famous 14er, Mount Evans
One of the most famous fourteeners in the state, Mount Evans offers stunning views, cute mountain goats and the highest paved road in the United States.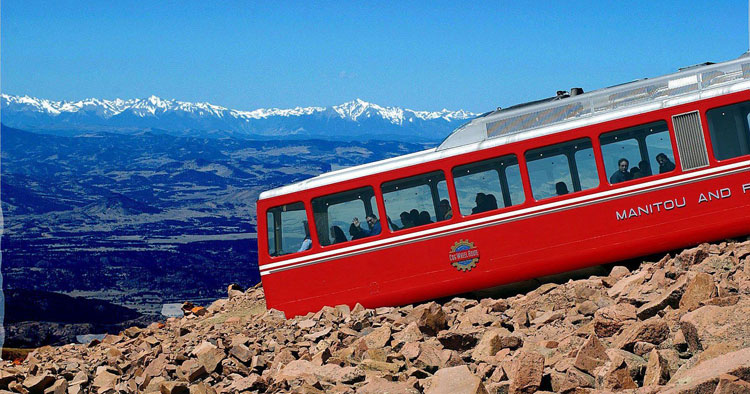 The Broadmoor Pikes Peak Cog Railway is an Abt rack system cog railway in Colorado that climbs the well-known Pikes Peak. The railway is far and away the highest in North America and is truly an incredible sight!
Located near Garden of the Gods, the Cave of the Winds is an incredible, 500-million-year-old cave in the Pikes Peak region that you can explore on a guided cave tour.
The Royal Gorge is a top Colorado attraction, and is also home to America's highest suspension bridge and zip line. For those more daring, there is a rollercoaster and other rides along with a theater and a gift shop!
One of Buffalo Bill's last requests was to be buried on Lookout Mountain above Denver—and his wishes were granted! Today, you'll find a park-based tribute to the cowboy with a museum, a gift shop and an observation deck.
49. We have a ton of national wildlife refuges
We love our wildlife here in Colorado, which means we also love protecting them! You'll find amazing wildlife refuges all across the state—including one that is now home to many of the tigers featured in Netflix's Tiger King!
50. Our historic byways
If you ever ask a Coloradan what you should do when you visit Colorado, they'll probably tell you to "just take a drive." That's because Colorado is packed full of historic byways that will not only get you to where you're headed, but will also showcase some of the best views in the state along the way. Check out this map from the Colorado DOT to see where the closest one is!
51. You can dig for dinosaurs here
Did you know that Colorado was once roamed by mighty stegosauruses, triceratops and other long-necked giants? In fact, there are several paleontological sites and museums across the state where you can see ancient fossils and even dig for some of your own! Check out this great list from CPR that outlines some of them.
52. There are hot air balloons
In our opinion, there's nothing more magical than a hot air balloon. Luckily, there are plenty of opportunities to watch and ride them here in Colorado. Not only are there several businesses that will take you up for a quick ride, but we also have several hot air balloon festivals each year, where you can see hundreds of colorful balloons riding high in the sky at once.
53. We have drag racing
If you're looking for a thrill, Colorado's drag racing scene will help satisfy it! Our state has several racing tracks that host events during the warmer months.
54. Stand in Colorado and surrounding states at Four Corners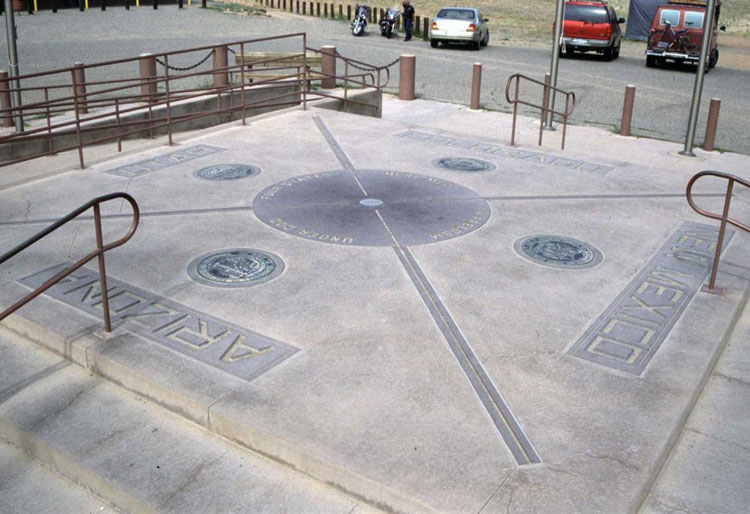 Did you know that it's possible to be in FOUR places at once? Four Corners Monument marks the quadripoint in the Southwestern United States where Colorado meets Arizona, New Mexico and Utah. Not only is it exceptionally cool, but it's also the only place in the country shared by four different states.
55. Gambling at Central City and Black Hawk
Whenever we're feeling lucky, we like to head up to Colorado's casino hubs, Central City and Black Hawk! Both are full of incredible and luxurious casinos where you can play a few games and win some cash.
Loving the Denver Broncos is another one of those Colorado things that is just part of the lifestyle, like hiking and craft beer. We also love how passionate Coloradans get about the home team.
While we do love the mountains, this time we're talking about our beloved baseball team. The Colorado Rockies, based out of Denver, is a favorite team of many Coloradans—including us.
58. There are so many tiny towns to explore
Colorado is full of tiny towns, each offering something different for you to enjoy. From epic mountain landscapes to historic landmarks, every town in Colorado is worth exploring! A few of our favorite little gems include Lake City, Idaho Springs, Creede, Paonia and Crestone.
59. All of the historic districts…
As we said earlier, Colorado is a state full of history and intrigue—and many of that history remains today in the form of historic districts! Old main streets and mining towns give us a window into Colorado's past and we love exploring them. Leadville Historic District, Breckenridge National Historic District, Old Colorado City and Cripple Creek are just a few of our favorites.
60. …And the creative districts
Coloradans are very creative, so it's only natural that we would have made spaces for our artists, artisans and makers to create. Colorado actually certifies creative districts in the state, so they aren't hard to find. Check out Colorado.com's list of registered districts whenever you're looking to support local!
61. Colorado's ghost towns
Speaking of historic areas, Colorado also happens to be home to quite a few ghost towns! While these cities used to be bustling with activities, they were abandoned—at least by the living—a long time ago during the time of intense standoffs, cowboys and saloons.
62. The hot housing market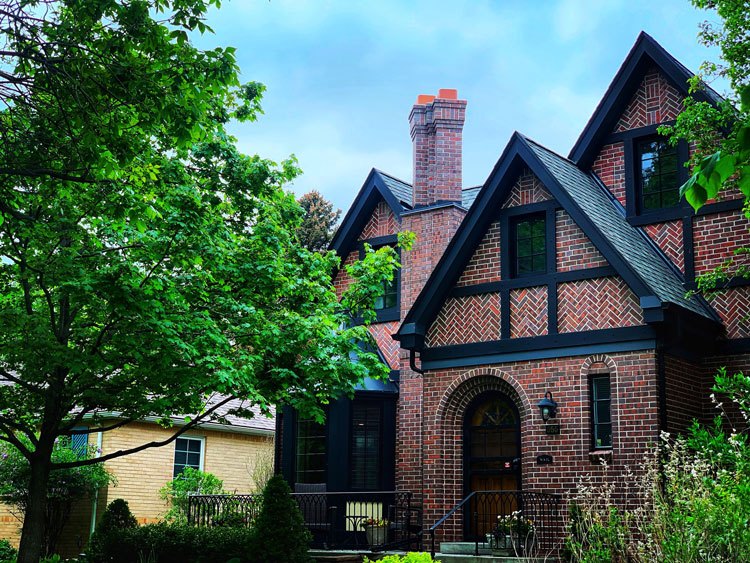 People love living in Colorado, which means our housing market is almost always booming. And, because of the incredibly low-interest rates, it's hotter than ever. If you're looking to buy or sell a home, right now is a fantastic time. Mor Zucker, the founder of The Denver Ear, is a top agent with RE/MAX! You can contact her here, to get started with your real estate journey.
63. Colorado is full of interesting neighborhoods & suburbs
No matter where you live in Colorado (or where you're planning to settle down), our state's neighborhoods and suburbs are all thriving communities in their own right, hosting community events, fun neighborhood programs and more.
64. It is incredibly dog-friendly
From the breweries and hotels to the parks and pet spas, Colorado is an incredibly dog-friendly state. In fact, it's practically unheard of to go on a hike without a pup in tow! Click here for a list of our favorite Denver area dog parks and here for our favorite dog-friendly hikes in the area.
65. We have some of the best schools in the nation
This year, Colorado ranked number three on a list of the most educated states in the country from Wallethub! Not only do we have some of the best school districts in the U.S., but we are also home to world-class universities like The University of Colorado, Colorado Mesa University, The University of Denver, Western Colorado University, The Colorado School of Mines, and many more.
66. We have one of the best job markets in the country
Colorado is constantly growing in job industries like architecture, engineering, technology, medical, business, financial, legal and more. So if you're on the hunt for a new job, look no further!
67. The walkability
While you may need a car or a train to get from city to city, Colorado towns are all pretty walkable, meaning you can get almost anywhere on foot, by bike or on a scooter.
68. There are plenty of opportunities to stay active
With the utter abundance of outdoor activities in Colorado, it's incredibly easy to stay active here. Hiking trails, bike trails, lakes, rivers, rock climbing centers, gyms—our state makes staying healthy accessible and fun!
69. All of the community events…
It's no secret that Coloradans love to party and our packed events calendar is just one example. From annual outdoor concerts and festivals to Yoga on the Rocks, Colorado is usually ripe with exciting events for anyone and everyone.
70. …Even the weird annual events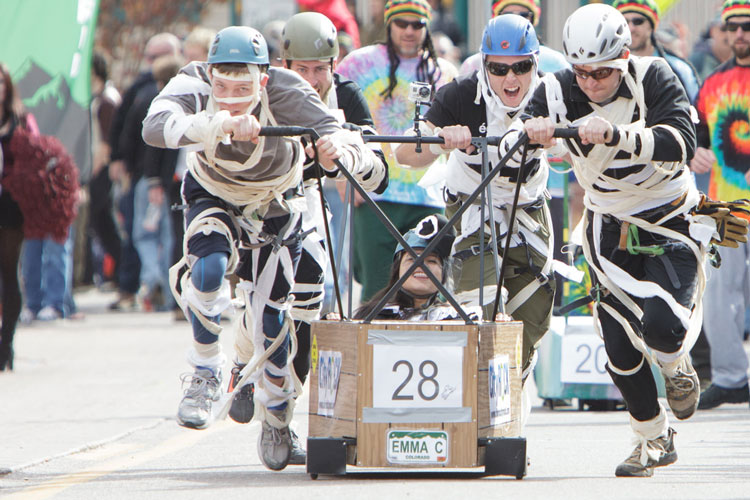 A cannibal festival, a headless chicken festival, a mushroom festival and coffin races, Colorado is home to some strange annual events. But these weird traditions are just another thing we love about living here.
71. Marijuana is legal
We're a pretty "high" state, and not just because of our elevation. If you didn't already know, marijuana is legal in Colorado! This means you'll find plenty of dispensaries no matter where you go and April 20th is pretty much a statewide holiday.
72. Our eco-friendly focus
In addition to highlighting our amazing education institutions, Wallethub also named Colorado one of the most eco-friendly cities in the United States! Wind turbines, accessible recycling programs, green buildings, solar energy farms and more are helping Colorado set a new standard for environmentally-friendly living.
73. Our family-friendly communities and attractions
Colorado is practically bursting with family-friendly communities and attractions, from our amazing children's museums to our neighborhood parks and playgrounds. There's also an abundance of free family fun throughout the state, head to our post, 5 Free Family-Friendly Activities in Colorado to learn more!
74. It's actually not as expensive to live here as other places in the country
There's no doubt about it: living in Colorado is expensive. But it's not the most expensive in the United States, in fact, it's not even close. CO falls in the middle, in between Pennsylvania and Montana. And when you take into account all of the amazing amenities you get by living here, the cost seems pretty worth it.
75. It's one of the best places to retire in the U.S.
When you picture retirement, you may be thinking of white sandy beaches and warm weather, but what if we told you Colorado was named one of the best places in the United States to retire by WalletHub?
76. One word: "Menver"
There are so many single men in Denver that it was actually nicknamed "Menver" a few years ago. So if you're single and ready to mingle, Denver's a pretty great place to be!
77. It has a rich history
Colorado is a state with a rich history that extends back more than 14,000 years. It technically wasn't made a state until 1876, making it one of the newer territories in the country and is packed full of stories. If you're interested in learning more, we recommend visiting one of our fantastic museums like the History Colorado Center in Denver and the Ute Indian Museum in Montrose.
78. It's a great place for travelers
It's safe to say that we'll probably never get sick of Colorado, but when you're looking for something a bit different, our central location makes it easy to travel somewhere else. Whether you're looking to get into a different state by car or across the world by plane, you can do it in a matter of hours thanks to our great highways and fantastic international airports.
79. Our art scene is always thriving…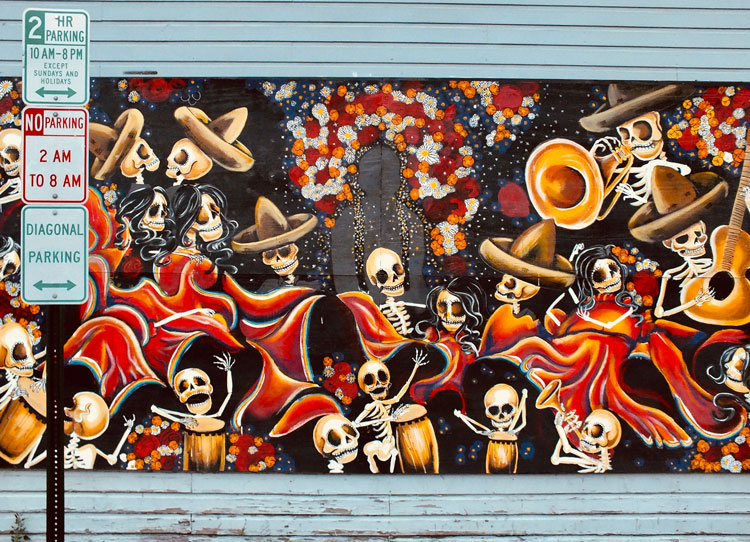 We are always boasting about Colorado's amazing art scene. From the murals in Denver's RiNo to the slew of incredible art galleries in Boulder, The Centennial State is bursting with creativity.
80. …As is our music scene
Outdoor concerts, historic music venues, local bands, recording studios, record companies and more—Colorado has always had a thriving music scene. Musicians and music lovers adore it here, and we don't blame them because we do, too!
81. All of the creative local businesses, makers and artisans
Colorado is a large community of makers including artists, artisans, crafters and more. You can get a taste of their work at one of our many artisan markets or at a local farmers market every weekend!
82. We have some amazing restaurants…
With our fabulous agriculture, Michelin star chefs and love of good, fresh eats, it's no surprise that Colorado is packed full of world-class restaurants and eateries. Check out our list of Denver favorites and make sure to tag us @TheDenverEar on Instagram the next time you visit an interesting restaurant in Colorado so we can add it to our foodie bucket list!
83. …And some world-class craft beer
Colorado = Craft beer. Good beer is in our blood. Don't believe us? Just ask a brewer at one of our 400 breweries around the state.
84. We love farm-to-table
Coloradans will always choose fresh, whole foods over the processed stuff—it's just a fact! That's why there are so many restaurants around the state that grow and serve their own produce or work with local farmers.
85. We have Colorado Style Pizza
If you're new to CO or are just visiting, you may not know that we have our very own style of pizza. It may not be as famous as Chicago's or New York's, but it should be! Colorado Style Pizza, or "mountain pie" is an extremely thick crust pizza that has been slightly sweetened with honey.
86. Our amazing Palisade Peaches
Head to any local farmers' market on the weekend during the warmer months and you'll be greeted by boxes and boxes of Palisade Peaches, Colorado's favorite crop. These fresh tree-ripened fruits are grown in Palisade, Colorado and are great raw, baked into pastries, and even grilled or frozen!
87. We're home to the melon capital of the world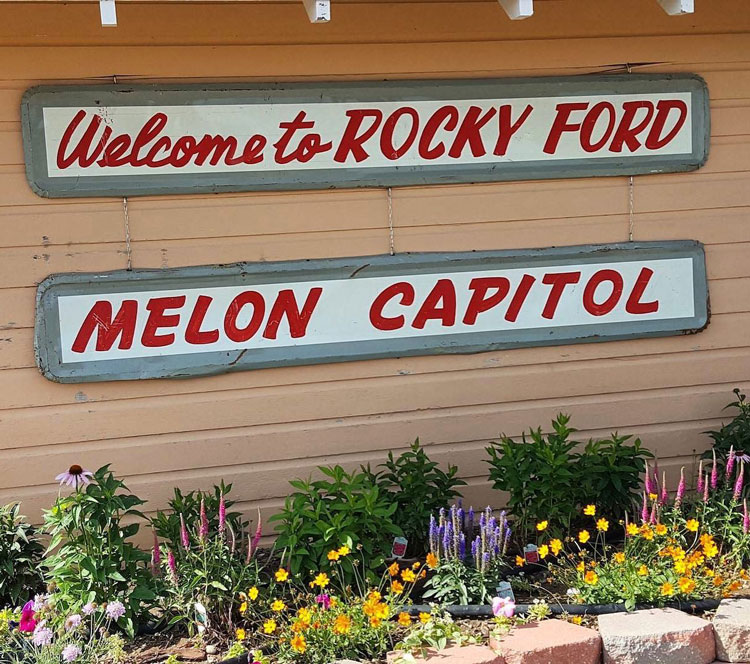 Rocky Ford, located in the Arkansas Valley, is dubbed the "melon capital of the world" so you know our melons are good. Watermelons, cantaloupe—you name it. Don't believe us? Just check out a local farmers' market this summer and pick one up for yourself!
88. We're known for our green chili
Green Chili is more of a side than actual chili peppers and is the perfect companion to any meal—breakfast or not. It usually features pork, green chiles, tomatoes and thickened with flour or corn masa.
89. We have amazing food halls
One of our favorite things about Coloradans is their ingenuity. Coming up with unique and interesting businesses, and making old things new is just a part of the Colorado lifestyle. Food halls are just that! Usually, they are in old factories, airports, shipping containers or foundries and are full of local businesses and restaurants.
90. We have some great coffee…
Beer isn't the only thing we brew here in Colorado! We also happen to be home to a slew of amazing coffee shops and coffee roasters that help keep our caffeine addiction satisfied. Here's a list of our favorite coffee shops in Denver!
91. …And some great kombucha
Over the past few years, kombucha has become a passion project for many Coloradans, with new kombucha breweries and taprooms popping up all over the state like American Cultures in Denver, Turtle Mountain Fermetery in Fort Collins and Upstart Kombucha in Boulder. We've even found that a few of our favorite breweries have also gotten into the kombucha game, offering the fermented beverage on tap.
92. We have our own Wine Country
Grapes in Colorado? You bet! Colorado Wine Country in Grand Junction, Fruita and Palisade produce some of the best wine in the country. Winemakers first came to western Colorado more than a century ago, but have recently started making a resurgence in the past 25 years. The area's warm days and cool nights are perfect for creating spectacular varieties of wine.
93. All of the distilleries
Colorado isn't a stranger to spirits! In fact, we have a ton of small, craft distilleries all across the state producing spectacular whiskey, vodka, rum and more.
94. It's the home of the cheeseburger
We have Colorado to thank for the invention of the cheeseburger! The trademark for the term "Cheeseburger" was awarded in 1935 to Louis Ballast, who owned a Denver restaurant named Humpty Dumpty that was famous for their delicious sandwiches.
95. We are very well-read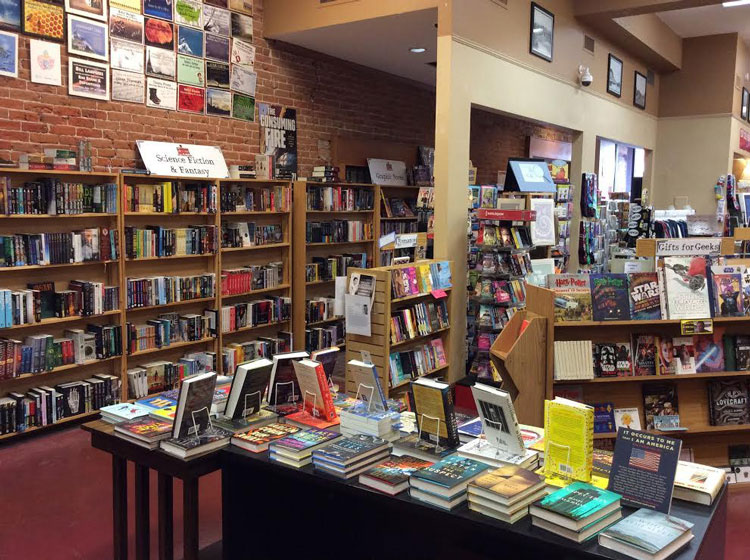 Coloradans are a well-read bunch, so it's no surprise that we're home to some amazing bookstores. The Tattered Cover, Poor Richards and Old Firehouse Books are just some of our favorites.
96. We have some great shopping
From shopping malls and centers to incredible shopping districts, Colorado isn't lacking in the commerce department! Denver's 16th Street Mall, Boulder's Pearl Street, Old Town Fort Collins, The Cherry Creek Shopping Center, Flatiron Crossing in Broomfield and Vail's many amazing shops are just some of our favorite spots to go on a shopping spree in CO.
97. We have a great balance of city and nature
Something we adore about Colorado is the beautiful balance between city and nature. While we do have our fair share of cities here, they don't take over the landscape.
98. There's a booming fashion scene
You may not think of Colorado as a fashion destination, but Denver's Fashion Week is one of the biggest in the nation, featuring hundreds of designers from all over the country. We also have a great number of fashion designers living all across the state as well as beautiful fashion boutiques and shops for when you need a new wardrobe.
99. It's colorful
It's called "Colorful Colorado" for a reason! With purple mountains, green valleys, blue lakes, red rocks, yellow sunflowers and orange sunsets it's a stunning rainbow of nature that you won't find anywhere else.
100. The people
At the end of the day, we love Colorado because of the people who live here! Coloradans are friendly, welcoming and just extraordinary in every way.
We love you, Colorado!
Why do you love the Centennial State? Let us know in the comments!