Exploring all of Denver's fantastic farmers' markets is one of our favorite summer activities. But because of the COVID-19 pandemic, things are going to look a little different this year—at least for the time being.
While farmers' markets are deemed an essential business and can open for the 2020 season, a lot of changes, including pre-orders and pickups, social distancing guidelines, and restrictions on prepared foods will be in effect to keep farmers, vendors and customers safe.
On the hunt for some fresh produce, locally made products and artisan goods? We've got you covered! Below you'll find a list of all the markets in the greater Denver area that plan to be open for the 2020 season, along with information on how they are responding to the pandemic.
Year-Round | Daily, 9 a.m.–6 p.m.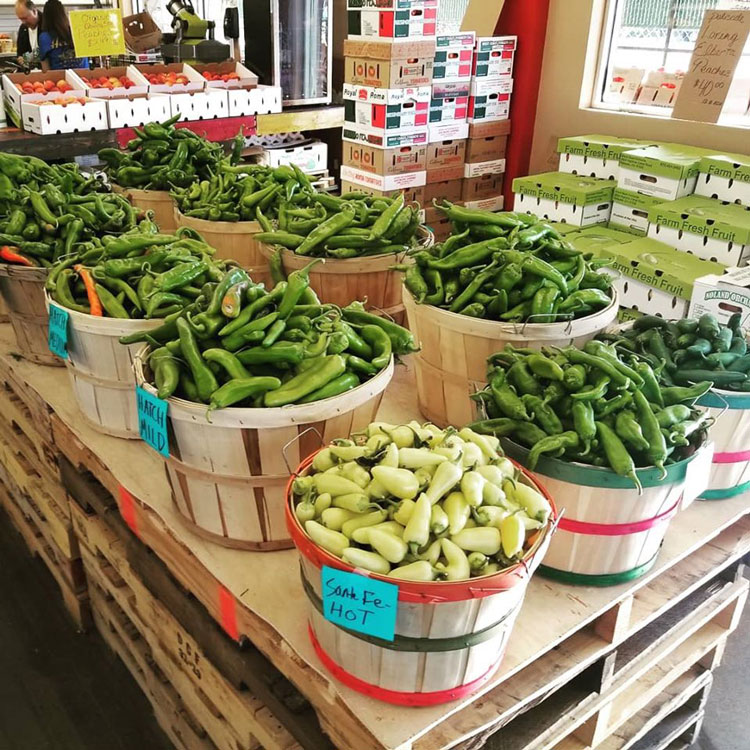 Heinie's Market is a family-owned, indoor/outdoor, open year-round, marketplace that offers fresh produce, flowers, jams & snacks since 1950. Heinie's Market sells only the freshest farm-grown produce that Colorado has to offer including peaches, tomatoes, Olathe sweet corn, apples, plums, pears, cherries, pickles, watermelon, cantaloupe, apricots, nectarines, fresh pie cherries and a variety of many other fresh Colorado fruit and vegetables. Their produce is purchased and hauled directly from the farm to their store, by the shop, with no middle man.
To help keep you and your family safe during the pandemic, they've also started offering online ordering with delivery and curbside pickup. Click here to get started!
Year-Round | Tuesday–Friday 12-4 p.m. & Saturday–Sunday 10 a.m.-4 p.m.
Four Seasons Farmers & Artisans Market is a year-round indoor farmers' and artisans' market that offers local, healthy farm products, as well as art by individual vendors. They are being very proactive to help combat the coronavirus and have enacted a wide range of safety measures, from eliminating shopping baskets to providing plastic gloves to customers. For a full list of policies or to place an order for pickup/home delivery—click here!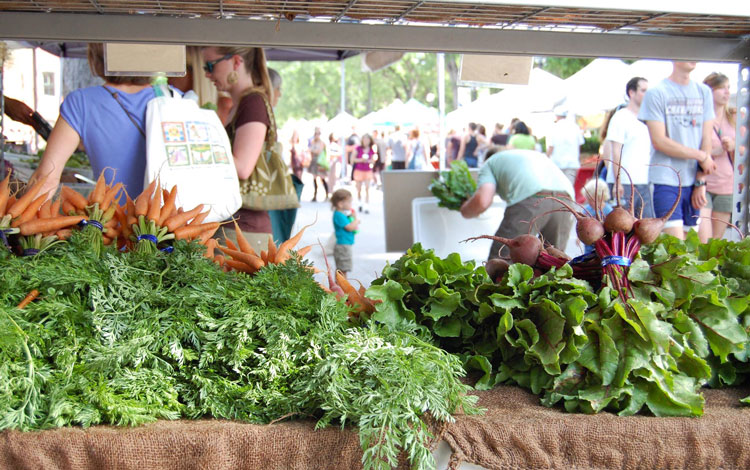 This nonprofit has been operating producer-only farmers' markets in Colorado since 1987. While their name may make you think the Boulder County Farmers' Markets only operate in Boulder, they actually have three separate markets around the area—including one in Boulder, another in Longmont and one at Union Station! To help prevent the spread of COVID-19, they have implemented a new reservations system at all of their markets, so that you can reserve a shopping spot for a specific time each week. And if you'd rather keep your shopping virtual, they are also offering a pickup service on Sundays where you can order your local produce and goods online and pick it up from the comfort of your car.
Boulder
May 23–November 21 | Saturdays, 8 a.m.-2 p.m.
Longmont
May 30–November 21 | Saturdays, 8 a.m.-1 p.m.
Union Station
June 13–October 24 | Saturdays, 9 a.m.-2 p.m.
Main Street Markets offer an incredible selection of local and regional foods, goods, and farm-to-table produce. Their markets in Arvada and Westminster offer fruits, vegetables, fresh breads, jams, honey and more. Main Street Markets are partnered with Local Foods Campus. Local Foods Campus is an inclusive network of producers, farmers, non-profit organizations, local food leaders, community leaders, governmental agencies & organizations and volunteers that ensure affordable, healthy, local food to Colorado Front Range citizens.
Both markets will be putting social distancing measures in place. But if you'd rather shop from home—you can now order all your farmers' market favorites online at Edible Market. Click here to start shopping!
Arvada
June 7–September 27 | Sundays, 9 a.m.-1:30 p.m.
Westminster
June 6–September 26 | Saturdays, 9:30 a.m.-1:30 p.m.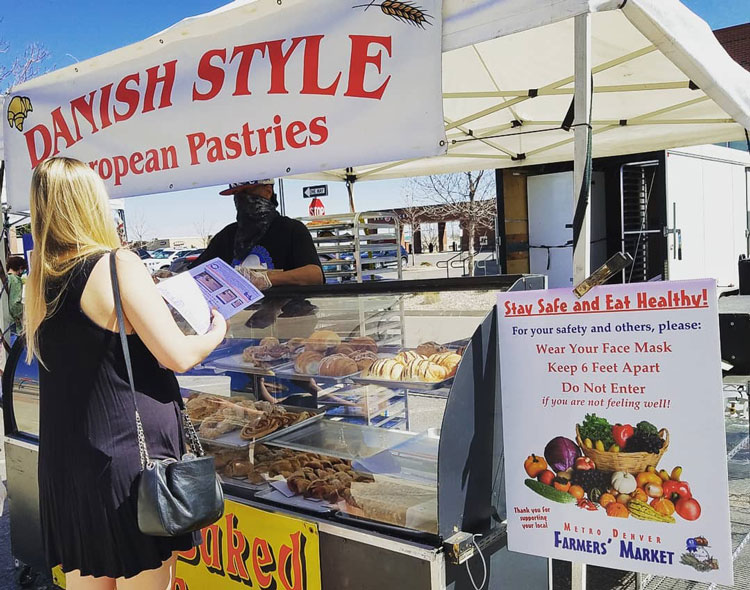 Metro Denver Farmers' Market is the oldest farmers' market in the Denver area. They have been in business for 39 years and many of their farmers are from generations of Colorado farming families, locally grown in all ways. Their aim is to bring the freshest, local produce directly to you. All locations are part of the SNAP Program and accept EBT cards for payment. For your safety, they ask that you wear a mask to all locations, keep 6 feet apart, and stay home if you are not feeling well.
Southwest Plaza
May 2–October 31 | Saturdays, 8 a.m.-2 p.m.
Lakewood
June 13–September 26 | Saturdays, 10 a.m.-2 p.m.
Highlands Ranch
May 3–November 1 | Sundays, 10 a.m.-2 p.m.
Reunion
June 14–September 27 | Sundays, 10 a.m.-2 p.m.
Littleton
June 17–September 30 | Wednesdays, 10 a.m.-2 p.m.
Friday, Saturday and Sunday — no matter what day you prefer to do your shopping — The Local Colorado farmers' markets have a spot for you throughout the southeast Denver area! Each of their markets in Aurora, Parker and Castle Rock features a wide variety of vendors and artisans selling fresh local produce, baked goods, handmade items and more. Visit their website to stay updated on their COVID-19 safety precautions.
Stanley Market
June 5–August 28 | Fridays, 9 a.m.-1 p.m.
Southlands
Starting June 6 | Saturdays, 8 a.m.-1 p.m.
Parker
Starting June 7 | Sundays, 8 a.m.-1 p.m.
Festival Park
Starting June 14 | Sundays, 8 a.m.-1 p.m.
May 17–November 15 | Sundays, 9 a.m.-1 p.m.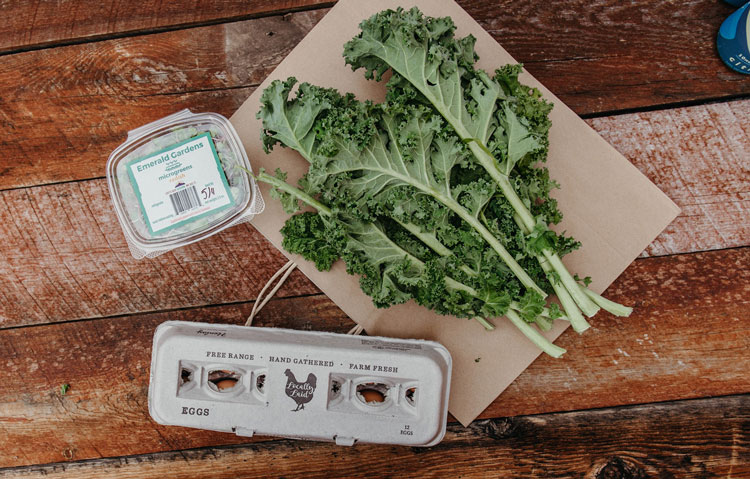 South Pearl Street Farmers' Market just opened for their 2020 season and are happily featuring more than 100 vendors again this year—all selling locally grown or made goods! To help prevent the spread of COVID-19, they are implementing a unique one-way traffic pattern. They will also be featuring handwashing stations and discontinuing their annual events for the time being. To stay updated on their policies, click here.
June 6–November 14 | Saturdays, 8 a.m.-1 p.m.
Colorado Fresh Markets presents a high-quality group of Colorado growers and unique local gourmet food vendors representing the best of the Rocky Mountain region. Enjoy chef demonstrations, kitchen and garden products, gardening tips from Master Gardeners, live music and more in a fun and festive open-air shopping environment including crisp veggies, juicy fruit, fragrant, flowers, bedding plants, culinary herbs, artisan cheeses, natural meats, gourmet foods, Colorado wines, local chefs and more. This year, due to the pandemic, they will only be hosting their annual Cherry Creek market on Saturdays and Wednesdays. While the Saturday market has been announced and will kick off the season on June 6th, they are still nailing down the details of their Wednesday market. Click here to stay up to date on announcements.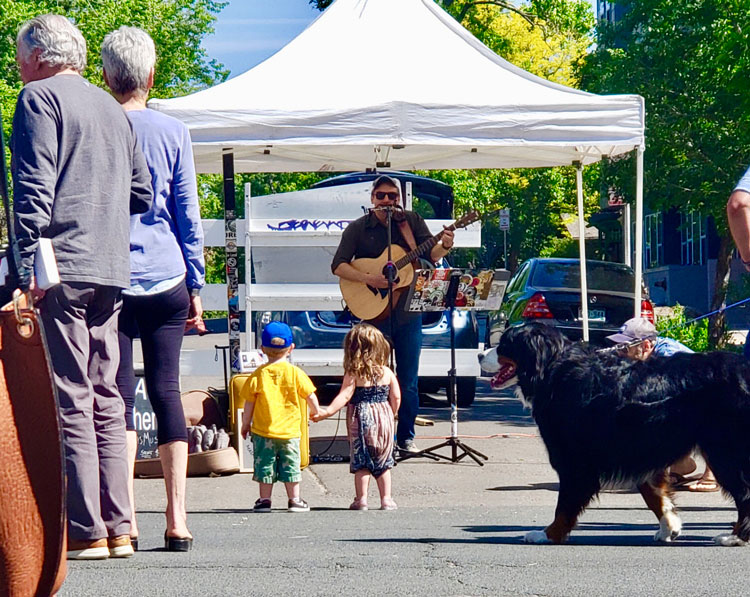 Real Farmers' Market pops up in Louisville, Erie and Highlands every week between May and October. This lively summertime community tradition features fresh produce, baked goods and talented artists—no matter which of their markets you decide to visit! It is a wonderful place to wind down, grab some farm-fresh ingredients for the week, and support local businesses all the while. As for COVID-19 policies, Real Farmers' Markets are taking this seriously, only allowing a maximum of 10 people into their markets at a time, controlling traffic flow, asking vendors to set up 6 feet apart, offering prepackaged foods, feature a sanitation station and much more. For a full list of their safety and health policies, click here.
Highlands
May 31–October 11 | Sundays, 9 a.m.-1 p.m.
Louisville
May 23–October 10 | Saturdays, 9 a.m.-1 p.m.
Erie
May 21–September 10 | Thursdays, 5-8 p.m.
June 6–October 3rd | Saturdays, 8 a.m.-1 p.m.
The Golden Farmers' Market at the Golden Public Library Parking Lot is a summer tradition, featuring a wide range of vendors selling everything from fresh produce to artisan goods. This year, in order to prevent the further spread of COVID-19, they are following strict guidelines and protocols to help keep you safe. Guests are asked to wear masks and they will be limiting the number of people within the market at any given time. 
Tuesdays and Thursdays
Prefer to have your farmers' market items delivered straight to your door? Goodshyft can help with that! Goodshyft is a sustainable grocery and meal-kit delivery service that was created during the COVID-19 pandemic. Deliveries include goods from local farmers and businesses, and they offer rotating meal-kits created by Denver chefs! Goodshyft delivers on Tuesdays and Thursdays—simply order by 3pm the day before your preferred delivery day.
Psst… The goodshyft project is a division of ecoshyft which is a female owned, sustainability consulting firm in Denver focusing on helping businesses, hospitality, and events become more environmentally friendly.
#ShopLocal
Know of any farmers' markets that we missed? Share with us in our comments, and we'll be sure to add it to the list!